Casual Flounce – Skirt & Sneakers Outfit
A summer skirt & sneakers outfit for that casual street chic look!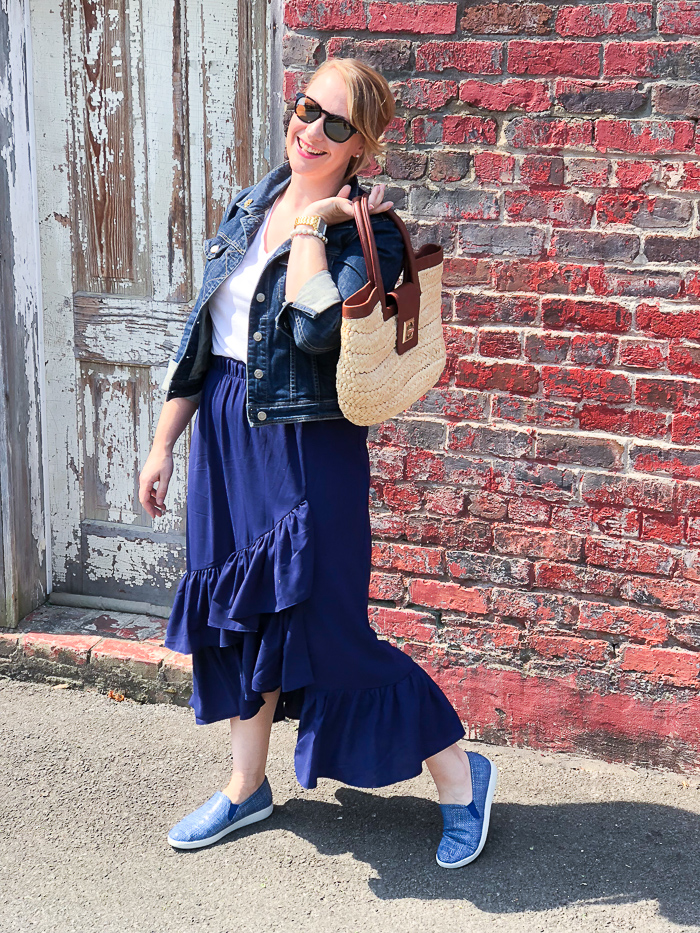 COMFORT…it is a vital thing, and as cliché as it sounds the older I grow the more vital a thing it becomes. In fact this side effect of maturation has been sneaking up on my footwear habits as of late, and I find myself reaching more and more for those smart sneakers over those chic heels. Hence my new captivation with the skirt & sneakers outfit trend.
While this street-style trend isn't exactly ground breaking, I've only recently accepted it's charm. Not only is the comfort craving satisfied, but sneakers with skirts look so cooly sophisticated in this nonchalant way. I love the juxtaposition of a skirt's flirty femininity with the sporty confidence of a pair of kicks.
How about you? Digging the skirt & sneakers outfit trend or too funky for you?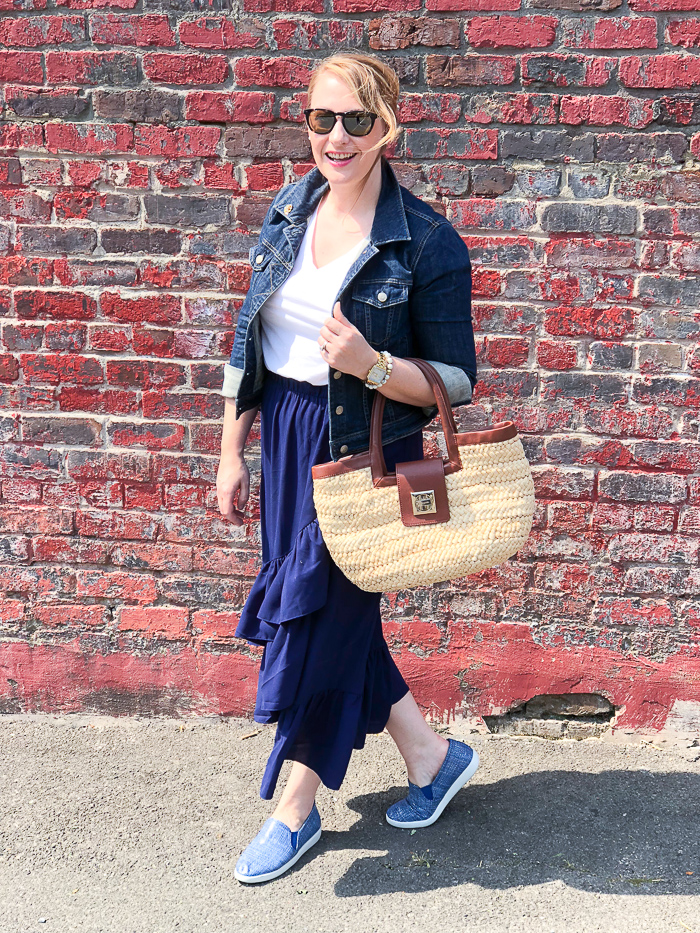 Get the Look – Skirt & Sneakers Outfit:
*This post contains affiliate links.*
Ruffle Skirt Nordstrom Rack (Sold Out, try this polka dot one and this flirty floral only $25) // Slip-on Sneakers Trotters from 6pm only $26 // White V-Neck Tee Target // Jean Jacket J.Crew (Past Season, similar here) // Handbag Kate Spade (Past Season, similar here)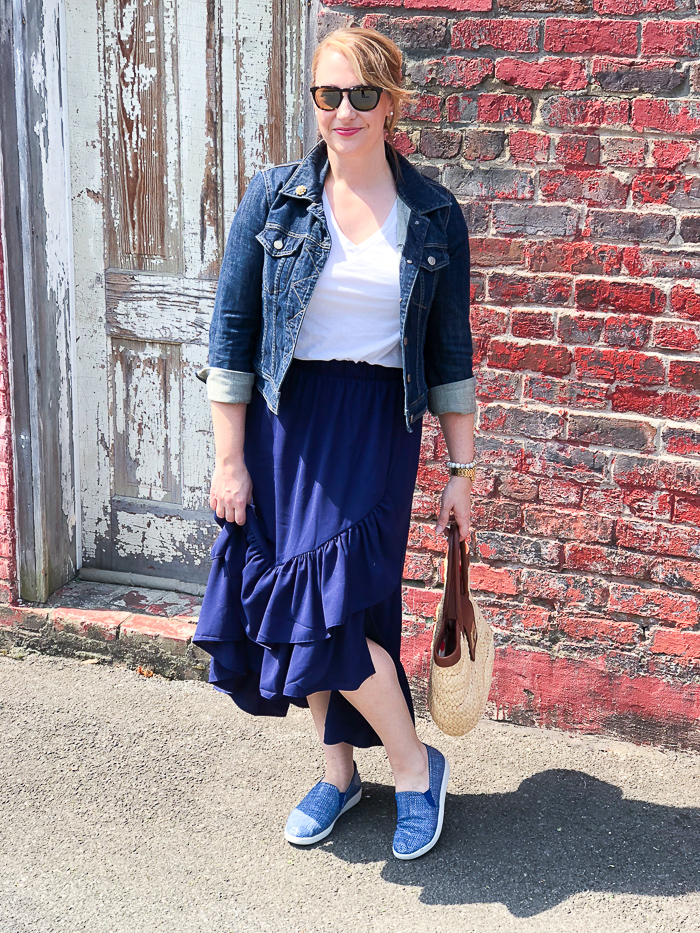 The trick to styling the skirt & sneakers trend is choose sleek kicks that aren't too clunky, especially when paired with a ruffled or ultra feminine skirt. This will balance out the look plus skirts draw attention to your feet, and you don't want it to look like you are flopping around in clown shoes.
With that in mind, I paired this flouncy ruffled maxi skirt with a pair of simple slip-on sneakers. The simplicity of the slip-ons balances out the flirty ruffles and makes the skirt, which is really rather dressy feel cool and casual.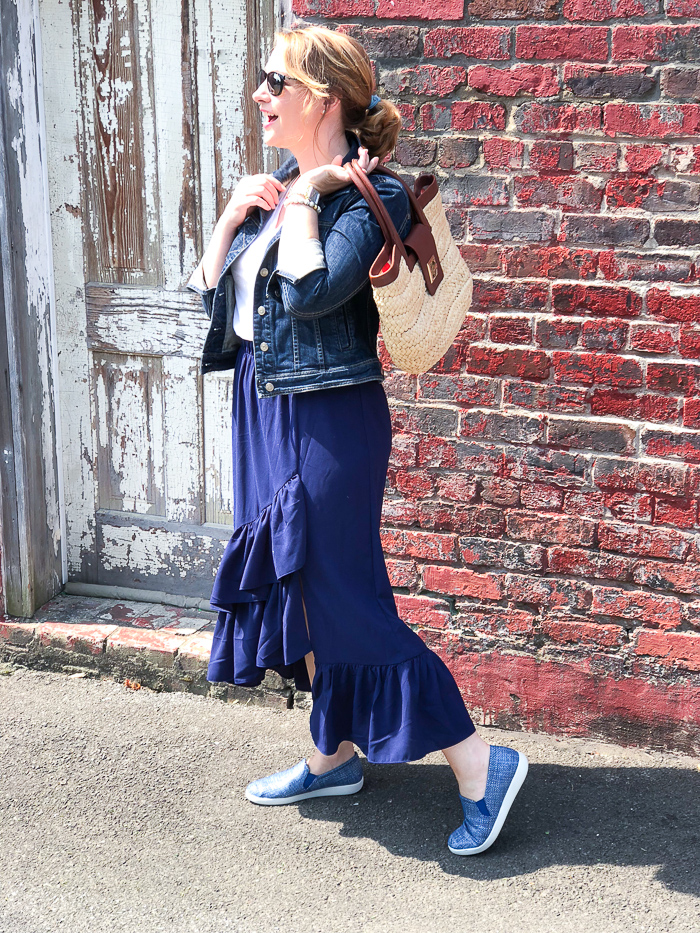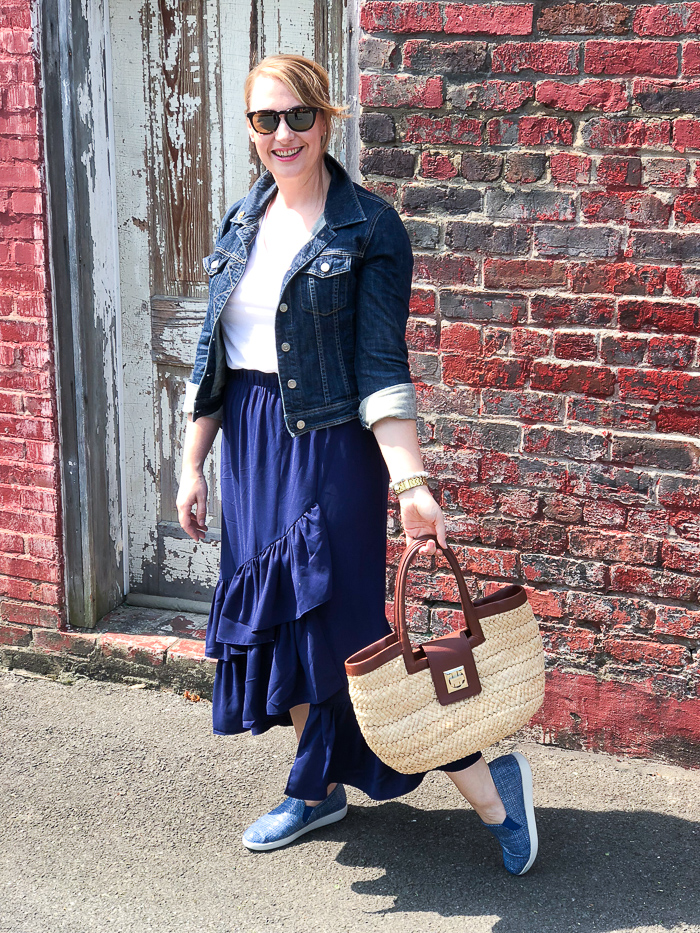 If you are just dipping your toes into this trend, opt for classic kicks like Keds in white or other solid color. Love this trend and want to be more forward? Opt for sneakers in interesting materials with sassy embellishments or go retro!
Just remember comfort doesn't mean you can't look smart and chic!
Partying with I Do deClaire…Pumps & Pushups…Straight A Style Blog…
SaveSave
SaveSave
SaveSave
SaveSave