Decorating with prints – how to incorporate pattern into your home decor to reflect your personal style and create a pleasing home.
Guest post by Jason Caldwell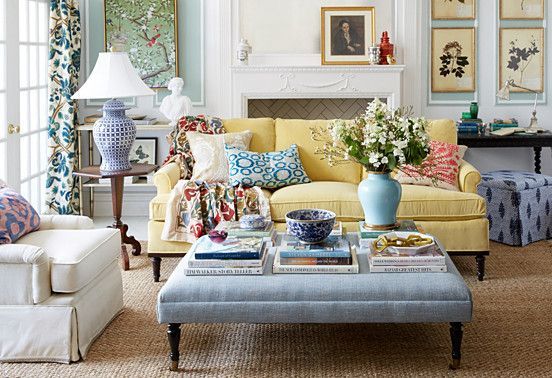 Prints, along with their coordinated base colors, can give a room color and life. They can spruce up any plain living room wall or bring attention to a thoughtfully selected antique coffee table.
Whether it is a classic, stately room relying on neutral colors and highly contrasting patterns, or a more intimate space featuring softer florals with vintage accents, prints and patterns can reflect your personal style and create a home that truly speaks to you.
Decorating with prints and incorporating pattern into your home's decor can seem daunting, especially since there are a myriad of options available.
Choose Your Base Colors
Take a few minutes to gauge what colors work best in the room you're working with. Does it have exposed brick? Is it bathed in sunlight during mornings or afternoons? With the right colors and prints, you could enrich any room.
Next consider the room's dimensions. Smaller spaces typically look more open and expansive with lighter colors and pastels. For a larger space, make it more intimate with darker, more saturated tones and cozier furnishings and decor.
Another aspect to consider is that ever-present buzzword "color psychology." Different colors affect moods and frames of mind. If you're decorating a bedroom, opt for a monochromatic or minimal palette. For instance, a naturally-soothing combination involves muted off-white tones, blues like indigo and cerulean, a flash or two of dusty pink or rose, and accents by gold or bronze elements in some pieces of decor or hardware.
Conversely, a living room or dining room intended to be a space for entertaining can take on a more lively, maximalist approach.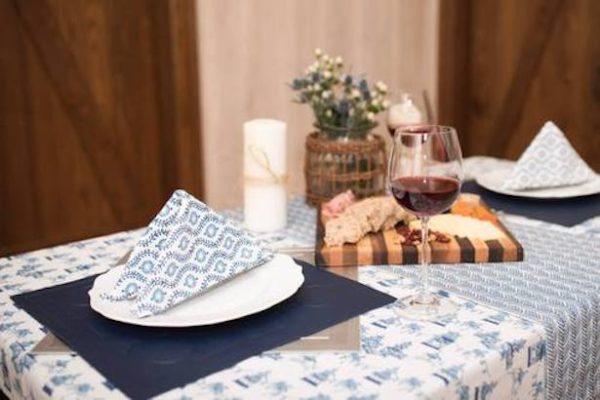 Determine the type of room you are coordinating and what prints, themes, and other aesthetic references you'd like the space to reflect. Opt for colors or patterns that reflect how you want to feel when you enter the room.
This base will give you guidance as to what kinds of prints or colors would contrast or complement the room. For example, a pale pink base would pair well with a dark burgundy flower pattern. If you are new to printed home textiles, try choosing a solid base color as a canvas for all the patterns you want to incorporate, and mix in a more classic pattern like blue and white stripes. Don't worry though. If you need help with this process, companies very similar to Blue Horizon Prints can offer support when picking colors to match the room.
An Inspiring Centerpiece
Using an inspiring patterned centerpiece is one of the best ways to get started decorating with prints. The centerpiece of a room can be a variety of different things. It can be the floral patterned wallpaper or a large Persian rug. A large centerpiece establishes the main color scheme and pattern of the room while giving it that extra wow factor. What do you want your eyes to be drawn to in a room?
The best place to start is to choose a centerpiece item with a large pattern that will establish the colors, pattern or theme of the room.
Layering Your Patterns to Add Dimension
After you have chosen your main pattern and color scheme, begin by choosing complementary colors in smaller or different patterns. Adding a variety of patterns within the color scheme will give your room different interesting textures that can add depth and life.
Now comes the fun part! When it comes to mixing a variety of prints and patterns, there are a few things to consider:
What types of prints are you working with in your room? Are they in varied sizes? Do they appear on different elements and surfaces?
If you're in love with the idea of flourishing damask prints, then consider using it in in wall paper or as upholstery on an accent chair. This will pair well with more geometric prints such as stripes and subtle florals, especially if those florals are busier and smaller in proportion to a more expansive damask base.
Or, go the bohemian route and frame your room's composition off of a vintage Ikat print from Indonesia. You may find this exotic-looking print more commonly in rugs, which will intuitively make it a good base for pairing with a striped accent wall or upholstery that complement the Ikat's unique sense of geometry and proportion. To maximize the Ikat's drama and presence, go for stripes that are a bit more thin and subdued, with the darker color in the stripe coordinating with one of the Ikat's main colors.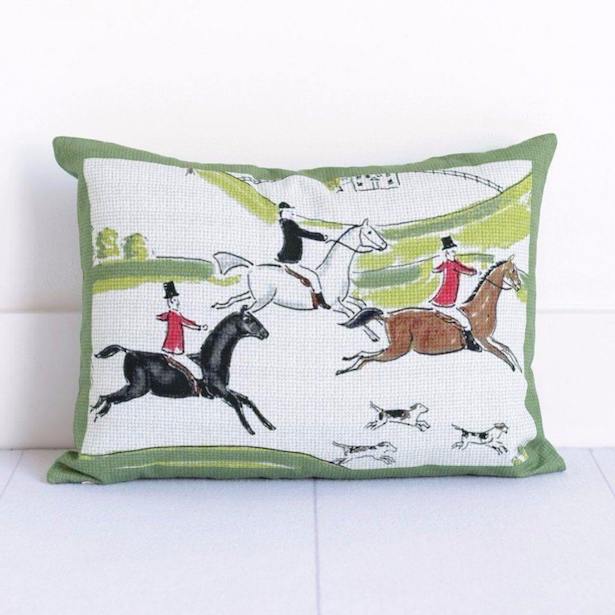 Patterned Pillows
Both practical and comfortable, patterned pillows can come in every pattern and color you can possibly think of. You can use their versatility to your advantage and pair them with other accessories, home decor, or even pieces of art when decorating with prints. Patterned pillows, though often overlooked because of their practical nature, can tie all the different pieces, patterns and colors of a room together, making the room a cohesive work of art.
Natural Textures as a Form of Patterns
Natural textures such as wood, bamboo, plants or shells can serve as key patterns that complement the printed patterns of a room.
A blending of natural and print textures can create a cozy but chic family room that is sure to impress your guests.
Decorating with Prints – Pulling it all Together
Try creating a mood board or collage with samples of your prints and patterns to see how they all come together. Decorating a room can seem difficult, but it doesn't have to be! Try using these simple ideas to help you choose and incorporate prints and patterns into a room's decor to create a pleasing space that reflects your style!
---
Thanks Jason for these great tips and ideas on decorating with prints!
Jason Caldwell is a Seattle-based writer who has been contributing to lifestyle blogs and magazines for nearly 10 years. When he's not running up against a deadline, he enjoys planning DIY projects and cooking for his family.
Pin this for later: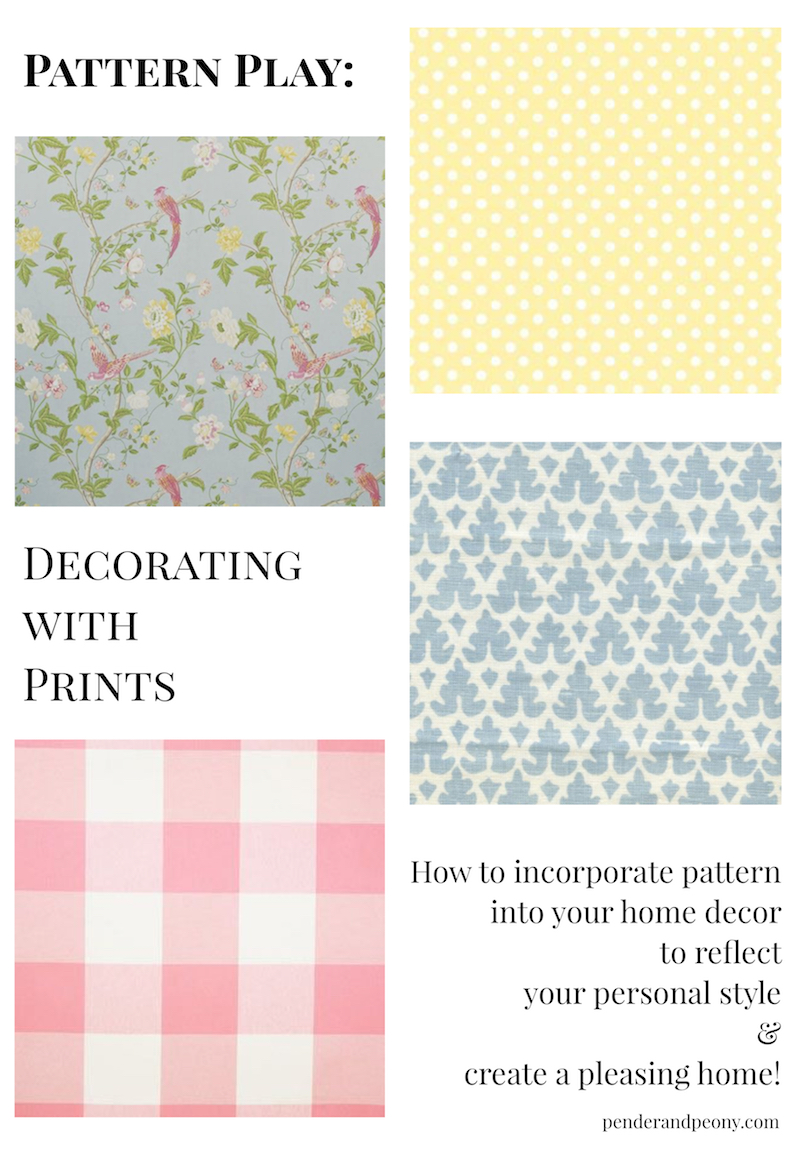 Partying with DesignThusiasm…
SaveSave