Boxwood Topiary Decor for a Traditional Mantel
How to create a traditional mantel using boxwood topiary decor for everyday decorating.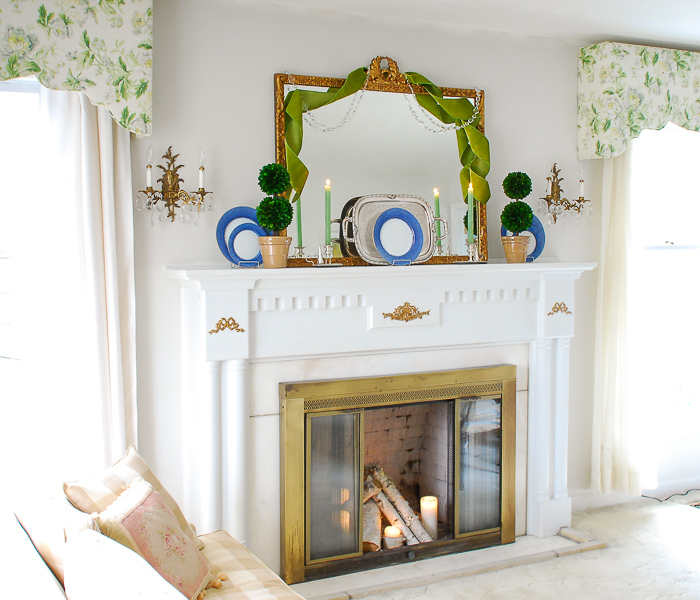 My living room mantel had been looking a little drab since I pulled down all of our cheery Christmas decor, so it needed a little sprucing. I did not want to put up full on spring decor yet but rather go for a classic look that would take us through the last of winter and into spring.
This transitional boxwood topiary mantel was the perfect solution! I used two boxwood topiaries on the outside of the mantel and layered my special china, Blue Lace by Mottahedeh, behind. In the center of the mantel, I propped up a pretty silver tray and layered another Mottahedeh plate on top.
Then to either side, I used a tall candlestick with silver holders. On the mirror I left the green velvet ribbon and crystal garland from Christmas to give it a little dash of interest. The effect is simple, colorful, and traditional, which coordinates with the style of my fireplace and our living room.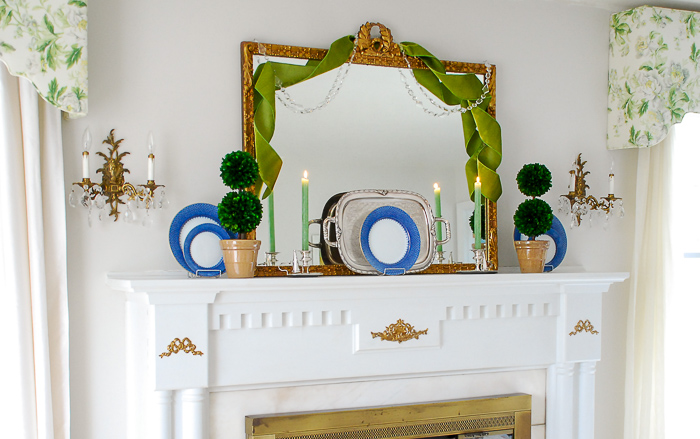 Here is how you can create a traditional mantel for everyday decor too:
First of all, creating a traditional mantel is all about using classic decor elements that never go out of style.
Think heirloom silver, fancy china, tall tapered candles, gilt mirrors, ceramic figurines, beautiful art work, and of course topiaries, but more about those later. Most of these elements are timeless and have been gracing fireplace mantels for centuries.
Second, add a natural element like boxwood topiary decor.
A traditional mantel needs something green! Bringing a natural element into a traditionally decorated mantel freshens it up and keeps the look bright. Preserved boxwood is perfect for this, and I am a huge fan of boxwood topiaries. Not only are they a classic element, but topiaries also add height, and I rather think they are quite dashing!
My two preserved boxwood topiaries are from Silk Plants Direct. The boxwood is a vivid dark green with uniform color, and I love the neutral ceramic pots they are "planted" in. The thing about preserved boxwood is that it can fade over time. I've had these little fellows for several months now and they have remained exactly the same.
Silk Plants Direct has a variety of topiary shapes, sizes, and style pots available. As a special treat, I have a 10% discount for readers of P&P on all their products except custom orders. Just type in the code "BLOGGER10" at checkout.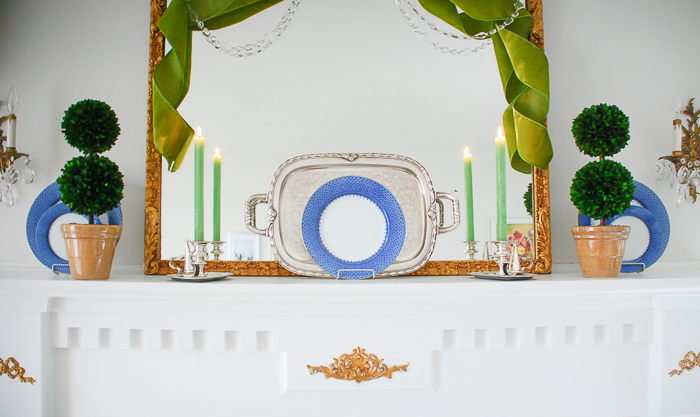 Third, arrange these classic decor elements in layers.
Even though your mantel board is a narrow space, use it to the max. Start with the largest decorative element whether it is a mirror or work of art and anchor it in the center. You can choose to hang it or set it on the mantel for a more modern twist.
As you layer your mantel decor be sure to consider how height affects placement. You want your eye to be guided from one decorative element to the next in an easy flow. Choosing a symmetrical arrangement is often the easiest way to do this.
Fourth, choose a sophisticated color palette that coordinates with the room's decor.
You can play with bright colors or more muted neutrals, but stick to classic color combos like black and white, blue and white, gold and silver, or navy and kelly green. Be sure your choice harmonizes with the existing decor of the room.
Fifth, add a touch of whimsy.
This is one of my favorite aspects about the traditional decor style! In the very best traditional rooms there are always touches of whimsy and cheer — whether it is a cheeky needlepoint pillow or an unexpected element.
You can add touches of whimsy in several different ways. Think a fanciful print, a bold color, a cheeky little Staffordshire figurine, or a decorative element used in an unexpected way.
In my traditional mantel, there are several different whimsical elements: the use of china layered on silver is unexpected, the vivid green candlesticks, and the ribbon crystal garland around the mirror. Plus as I mentioned I think boxwood topiary decor is rather whimsical and dashing in and of itself!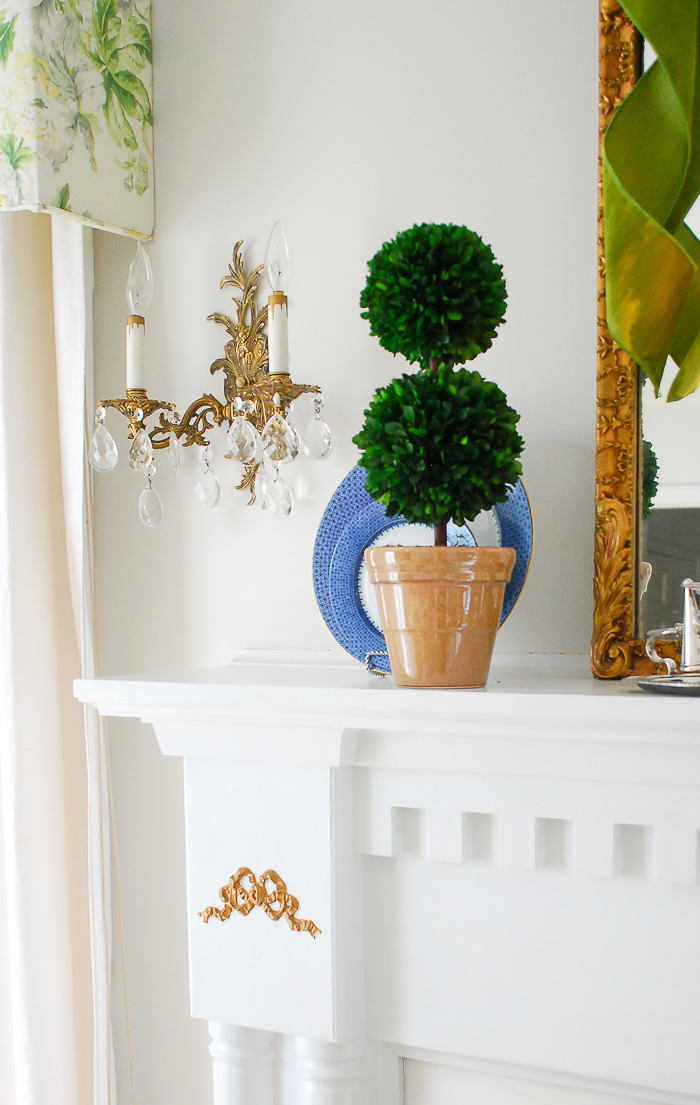 One of the great things about creating a traditional mantel for everyday decorating is that you probably have all of these classic elements already. Shop your home and pull out your silver heirlooms and that beautiful china that perhaps only gets used during the holidays. Put these gorgeous elements on display!
Want more on decorating with heirlooms? See this post!
Shop My Boxwood Topiary Decor for a Traditional Mantel Look
Topiaries c/o Silk Plants Direct // China Mottahedeh // Similar Silver Trays // Similar Silver Chambersticks // Gilt Mirrors // Candles Vance Kitira
Partying with Between Naps on the Porch…The Dedicated House…The How-To Home…Pumps and Pushups…My Girlish Whims…Designthusiasm…
SaveSave
SaveSave
SaveSave
SaveSave
SaveSave
SaveSave
SaveSave
SaveSaveSaveSave
SaveSave