How to Decorate with the 2018 Pantone Color of the Year: Ultra Violet
Fans of purple hues rejoice and follow these 10 rules to decorate with the 2018 Pantone Color of the Year – Ultra Violet
Following the equally bold choice of the 2017 Pantone Color of the Year choice, Greenery, this year's selection, Ultra Violet, is daring and imaginative. According to Pantone:
A dramatically provocative and thoughtful purple shade, PANTONE 18-3838 Ultra Violet communicates originality, ingenuity, and visionary thinking that points us toward the future. Complex and contemplative, Ultra Violet suggests the mysteries of the cosmos, the intrigue of what lies ahead, and the discoveries beyond where we are now. The vast and limitless night sky is symbolic of what is possible and continues to inspire the desire to pursue a world beyond our own.
The Power of Purple
Purple has long been recognized as a powerful color: the color of Roman generals, royalty, and Roman Catholic authority.
A color of transformation and defiance: the Woman's Suffrage Movement, 60's counter-culture, and the LGBTQ rights movement.
A color of originality and imagination: Prince with "Purple Rain," the Fauvists and expressive color, and Katy Perry with her purple hair.
As if this weren't enough, ultra violet has a spiritual, mystical association often used in meditative practices. Violet is a spectral color and rare in nature.
Today, science has revealed violet is the most powerful visible wavelength of electromagnetic energy. It's just a few steps away from x-rays and gamma rays. Perhaps this explains why it is associated with supernatural energy and the cosmos.
A Bold Choice
The Pantone Color of the Year selection is no doubt a bold choice, and it will generate strong reactions. People seem to either love purple or hate it. Certainly, this shade, Ultra Violet, is appealing with its inclination towards blue and cooler tones.
While I am not a big proponent of adopting the latest trends in fashion or interior decor to be hip or stylish, I do think it can be fun and inspiring to experiment with them and see how they work with your personal style. I love purple, and while I don't plan to adopt Ultra Violet into my home in any meaningful way, I will probably play with it in a tablescape or other transitory way.
If you fall in the love it category and want to incorporate more purple into your home decor, here are 10 rules to decorate with the 2018 Pantone Color of the Year – Ultra Violet:
Do use Ultra Violet as an accent color.
Do mix it with metallics for a luxe look.
Don't use it in patterns or decor that is childish – no one wants their decor to look like Barney's house.
Do create a bold, bohemian look by mixing Ultra Violet with jewel tones: turquoise, burnt orange, and sage green.
Do take a cue from nature and add Ultra Violet with floral accents like delphinium and lavender.
Do go sleek and modern for a graphic look by mixing Ultra Violet with black and white.
Don't use on permanent or semi-permanent household fixtures like tile.
Do mix with cool tones and varying shades of violet for a calming vibe.
Do invest in art with a strong Ultra Violet palette.
Do use it on household accessories like sheets and towels.
Incorporate the 2018 Pantone Color of the Year – Ultra Violet – into your home with this decor!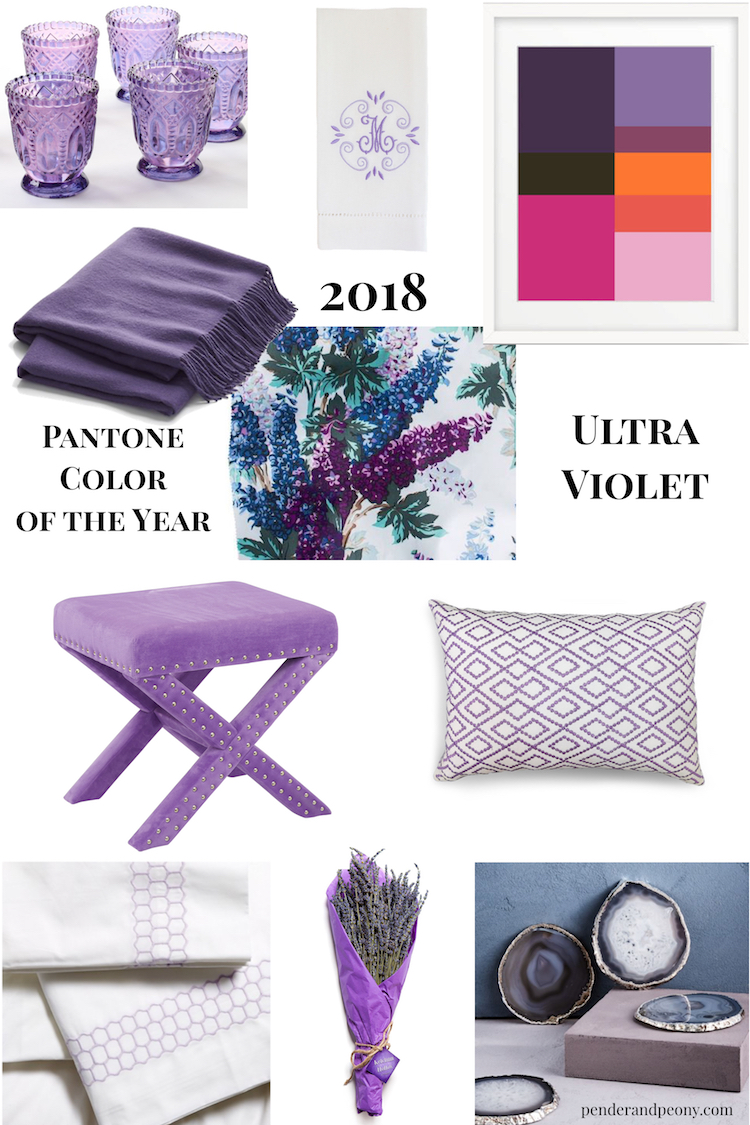 *This post contains affiliate links.*
Glass vases // Tea towel // Art // Throw // Delphinium Fabric // Ottoman // Pillow // Sheets // Lavender bunch // Agate coasters
Ultra Violet Inspiration
Happy Decorating Purple Lovers!
Partying at Between Naps on the Porch…A Stroll Thru Life…HonestMum…The Dedicated House…
SaveSaveSaveSave
SaveSave
SaveSave
SaveSave
SaveSave
SaveSave
SaveSave
SaveSave
SaveSave
SaveSave
SaveSaveSaveSave
SaveSave
SaveSave