Boughs & Blossoms: My Green and Gold Christmas Living Room
Poinsettia, juniper, paperwhites, velvet ribbon, and gold accents mingle merrily in my green and gold Christmas living room!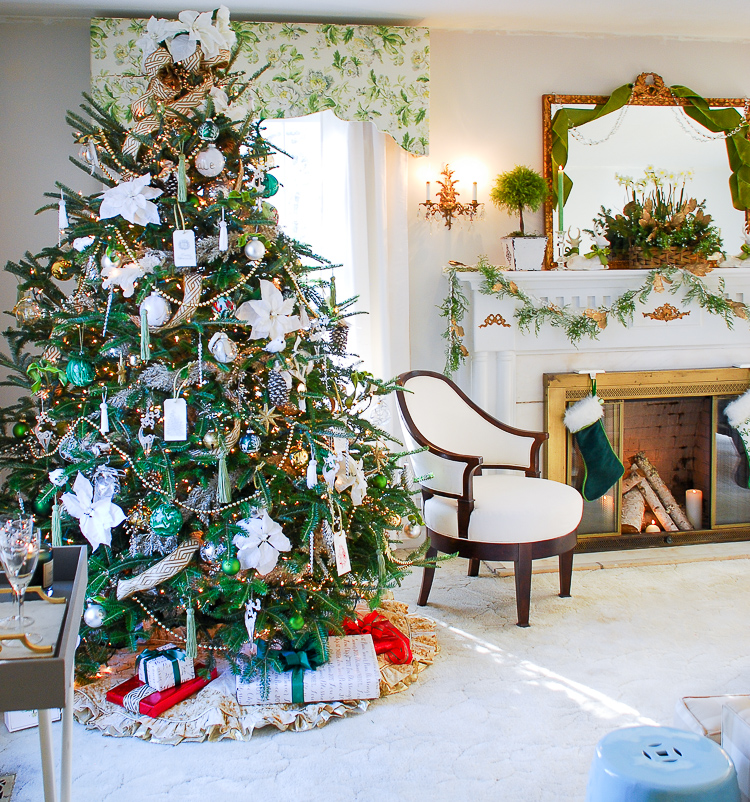 Good morning and merry Christmas lovely peonies! Today, I am sharing my green and gold Christmas living room with you. I've nicknamed the look boughs and blossoms! Fitting don't you think?
I look forward to decorating for Christmas every year. Our house is still in reno mode and nowhere near complete, but it doesn't matter – not with glittery lights, boughs of pine, sprigs of holly, paperwhite bouquets, and stockings hung with glee! Decorating gets me into the Christmas spirit like nothing else does…ok…hot cider and Christmas tunes help too!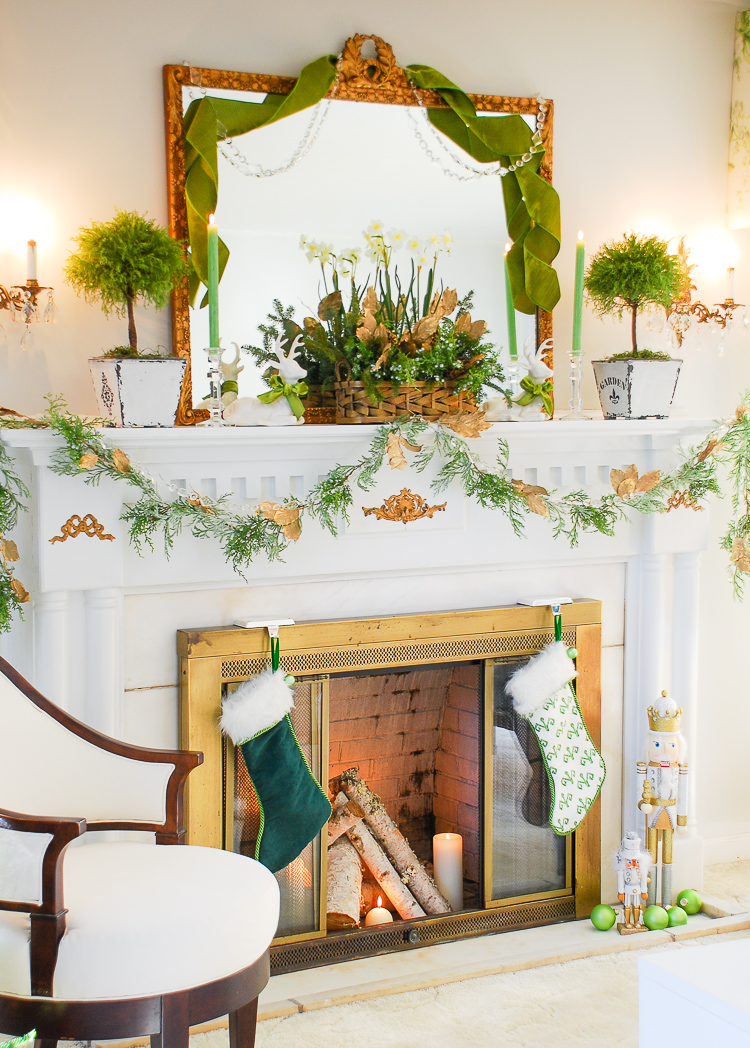 For my Christmas decor this year I was greatly inspired by my trip to Blowing Rock and the winter botanical look at the Last Straw. You can see it here. I just love this chartreuse green; it is so fresh and bold! I wanted to play up the green in my newly upholstered cornice boards and create a formal look that channeled traditional Southern Christmas decor.
Green and Gold Christmas Mantel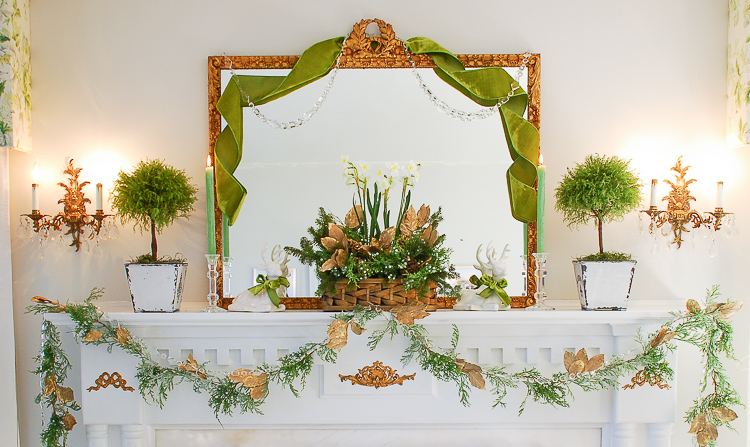 My mantel is decked with faux cedar garland, which I adorned with juniper sprigs, gilt leaves, and chains of crystal. Lemon cypress topiaries and ceramic reindeer flank a mantel centerpiece of pine, juniper, and paper whites with magnolia seed pods and gilt leaves for glitz. I carried this gorgeous chartreuse up to the mirror with a wide velvet ribbon and another crystal chain.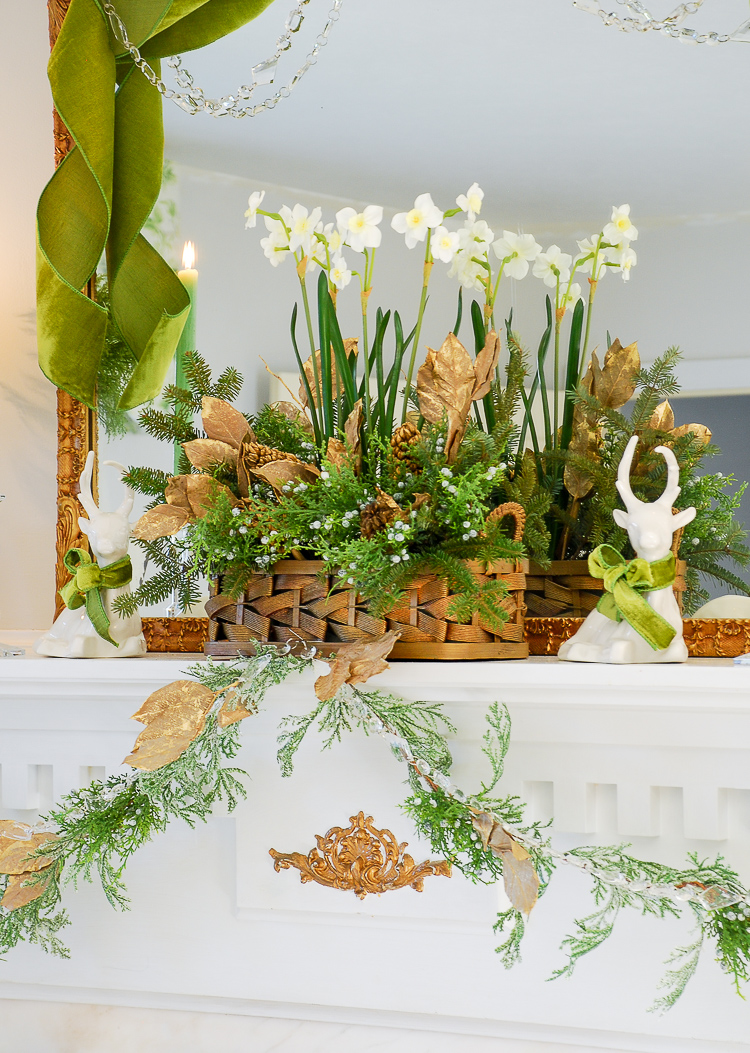 Green and Gold Christmas Tree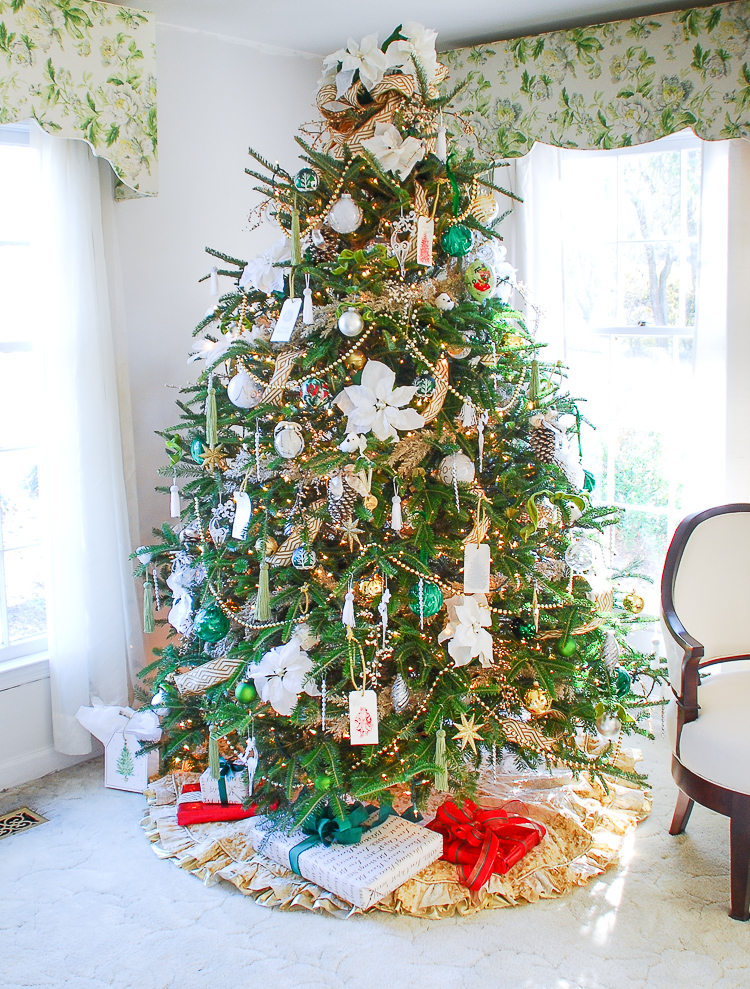 White poinsettia, tassels, gold ribbon, berry sprigs, and two types of garland grace my Christmas tree this year. I kept the color palette limited, but mixed it up with several different types of ornaments. I like a full tree ladened with decorations and varied textures.
While I often change my Christmas tree theme each year, I always use the meaningful ornaments S. and I are collecting. Each year we give each other a special ornament to mark our adventures and experiences over the course of the year. This year's ornament is a hand painted ball from Maui (you can see it to the left of the poinsettia). Our tree also includes several hand-made ornaments that I've created, including the embossed paper tags and painted glass ornaments that say Joy | Peace | Noel.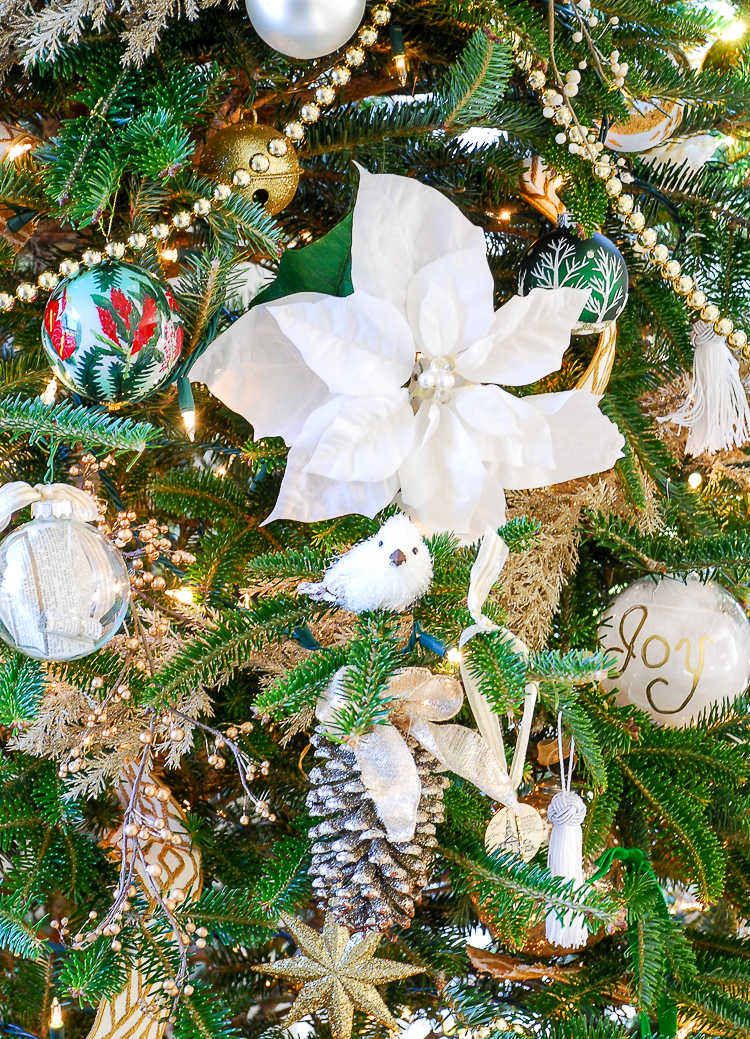 Green and Gold Christmas Touches on the Bookcase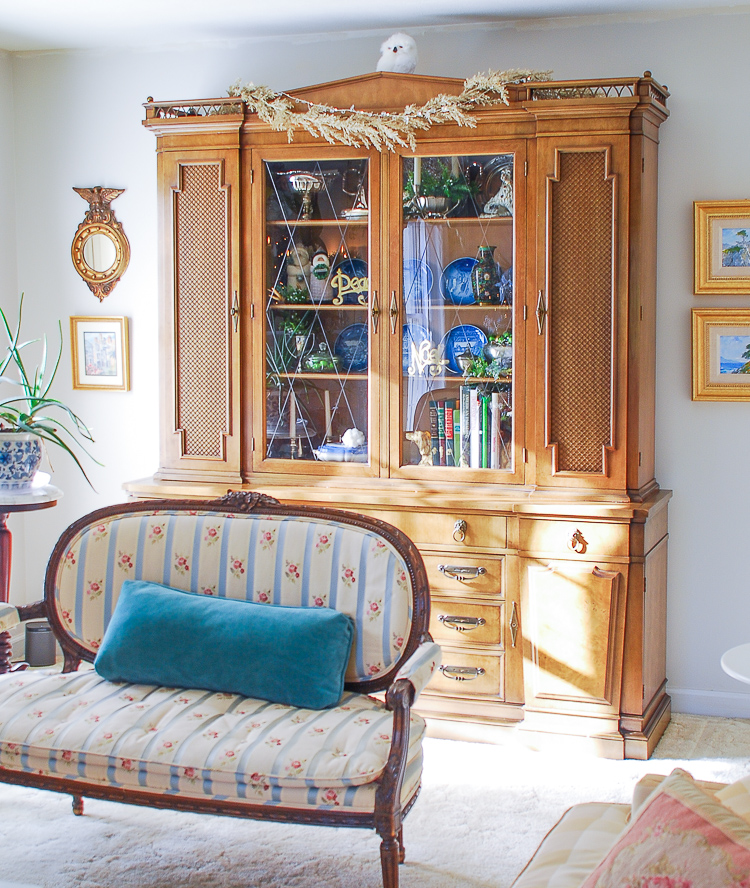 When you choose a bold color scheme for Christmas decor it is best to carry it throughout a space. I couldn't let the bookcase go undecorated, so it received holiday touches with sprigs of juniper and pine, bowls of green ornaments, and two cute Santas.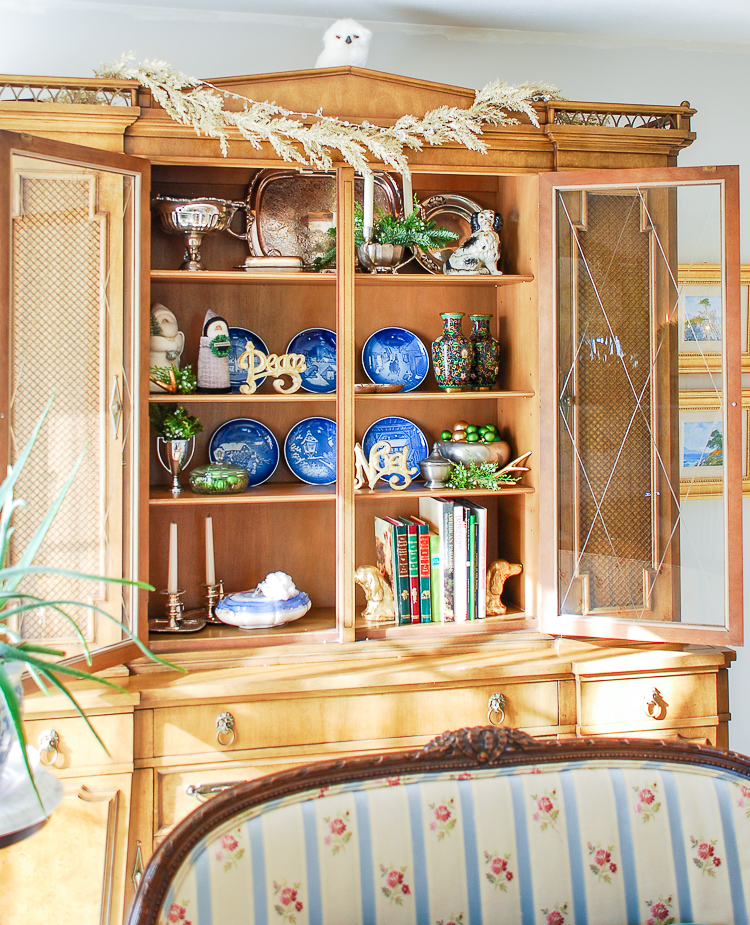 Green and Gold Christmas Bar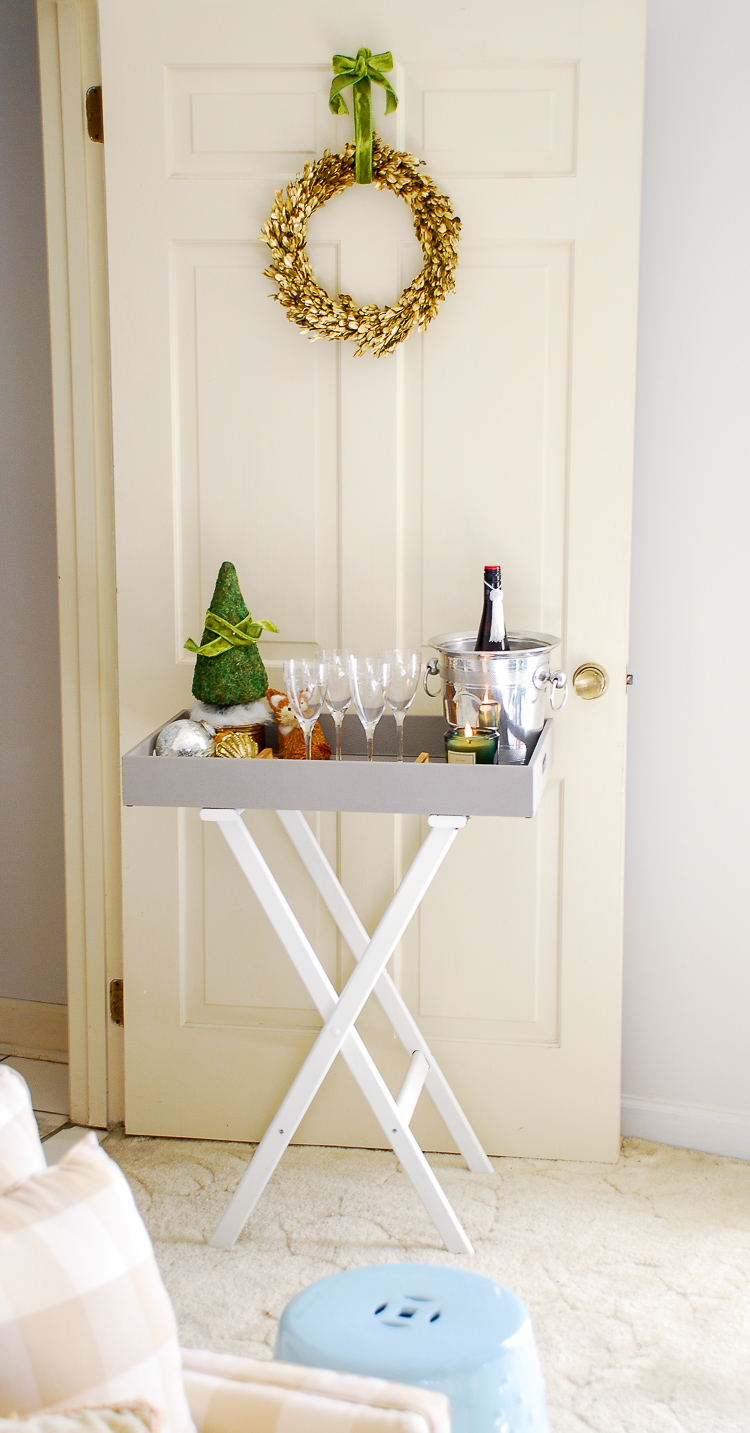 S. and I will be hosting our family for Christmas this year. We are very excited! When hosting a large party for the weekend, I like to set up multiple bars in the house each with their own drink or purpose. The green and gold Christmas bar in the living room will be the wine and/or champagne bar, so it is set with wine glasses and an ice bucket.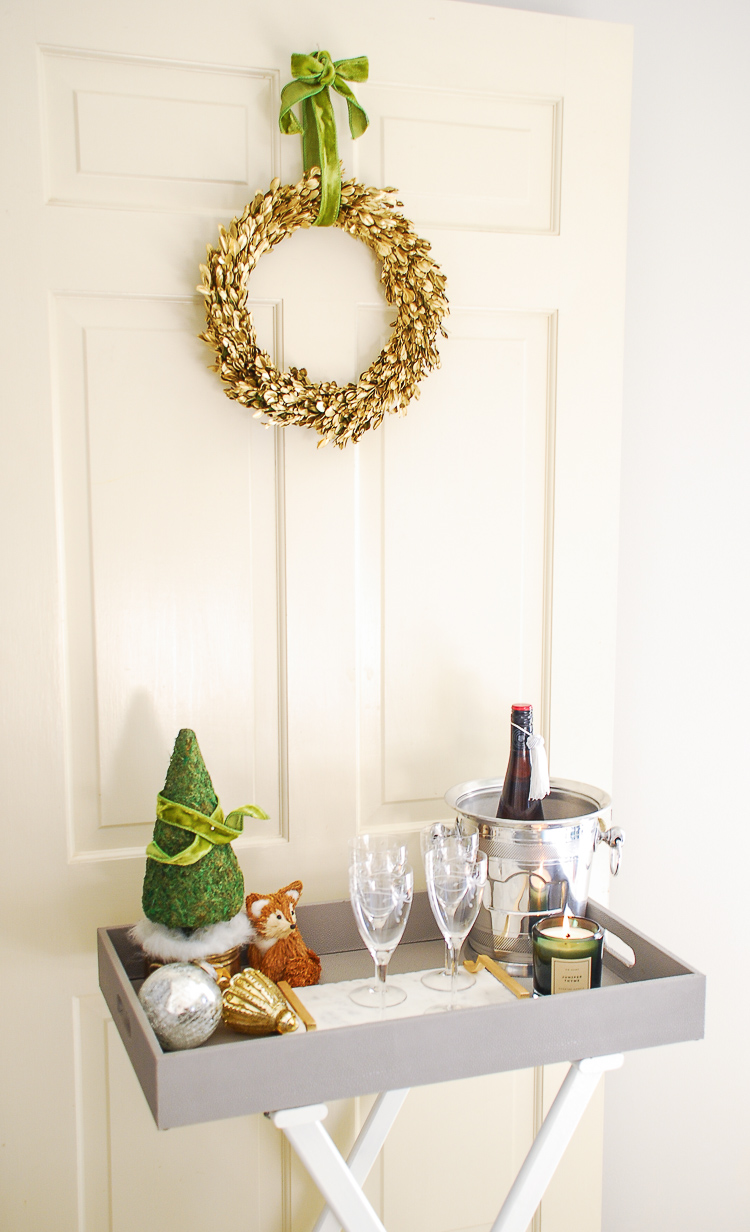 Isn't that gold boxwood wreath gorgeous? I spray painted one of the preserved wreaths I made last year and added a green velvet ribbon. You can learn how I made the wreath here.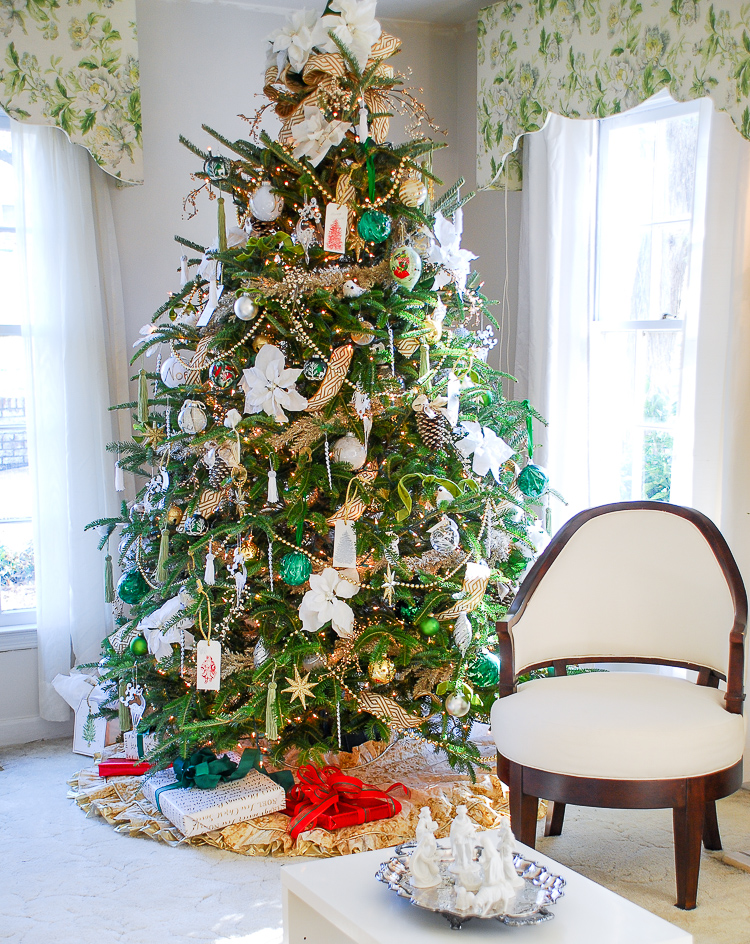 Get the Look:
*This post contains affiliate links.*
Chartreuse Ribbon D. Stevens (Available at Hoskins in the Flat, Similar here) // Paper Whites // Crystal Chain // Cedar Garland // Juniper Sprigs // Gold Ribbon // Tassels White & Green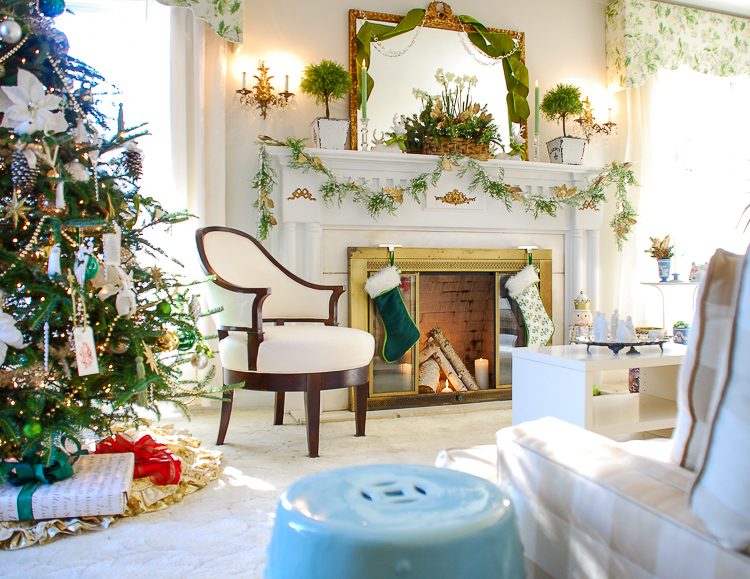 Happy Decking the Halls Y'all!
Partying at The Dedicated House…Between Naps on the Porch…A Stroll Thru Life…
SaveSave
SaveSave
SaveSave
SaveSave
SaveSave
SaveSave
SaveSave
SaveSaveSaveSave