My Top 5 Healthy Living Strategies
5 Healthy Living Strategies to help you feel better, have more energy, and adopt a healthy lifestyle!
Are you trying to eat and live more healthy? Me too, but sometimes it seems so complicated and practically impossible! We are bombarded by healthy eating advice, scientific findings, new diet crazes, and of course surrounded by junk food and fast food restaurants. How in the world are we supposed to make sense of it all and stay motivated?
Over the last few months, I've been thinking about this question a lot, researching methods, and testing strategies to live more healthy. I've shared a few posts aimed at healthy eating: tips for pantry organization and a review of Michael Pollan's book Food Rules, but, today lovely peonies, I'm ready to share with you my top 5 healthy living strategies. Over the last 6 months these strategies have helped me loose weight, tone muscle, stay motivated, and most importantly feel better with more energy!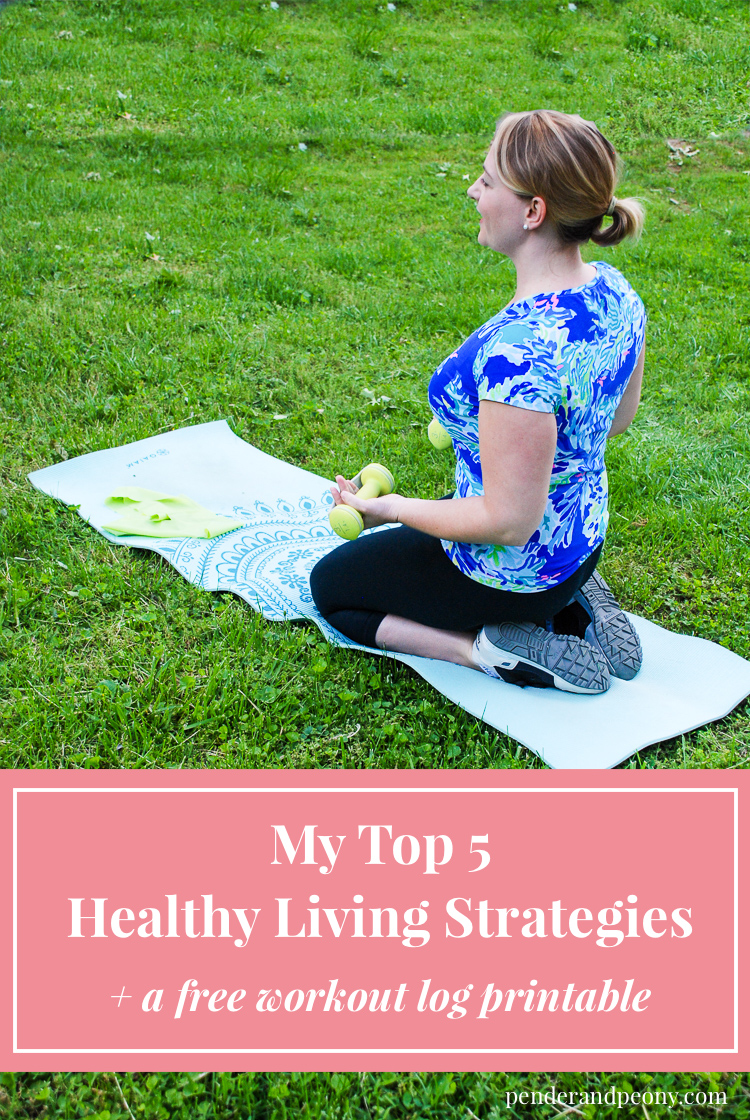 5 Healthy Living Strategies:
Strategy # 1 Drink Water, More Water, And then Double that
It is a simple fact that our bodies don't function well when de-hydrated. So stay hydrated! The Institute of Medicine recommends roughly 13 cups (104 ounces) of water per day for adult men and 9 cups (72 ounces) per day for women. My goal is to consume about 90 ounces of water daily, and I start as soon as I wake up. Instead of immediately fixing a cup of coffee I make lemon water, and try to drink about 8 ounces. Then, who am I kidding, I flip on the Keurig.
I really like to add fresh lemon and lime slices to my water to give it flavor. Lemon water also has great health benefits, including:
A dose of Vitamin C & antioxidants
Digestion & detoxification aid
Weight control
To receive these benefits, you need to use about half a lemon to an 8 ounce serving of water. Since increasing and monitoring my water intake I've noticed:
More energy
Less bloating
Healthier skin and nails
Strategy # 2 Adopt a Healthy Eating Philosophy
Reading Michael Pollan's book, Food Rules, inspired me to create my own healthy eating philosophy last fall, and since then I've been trying to implement it as much as possible. You can read more about about that here.
My philosophy is fairly simple: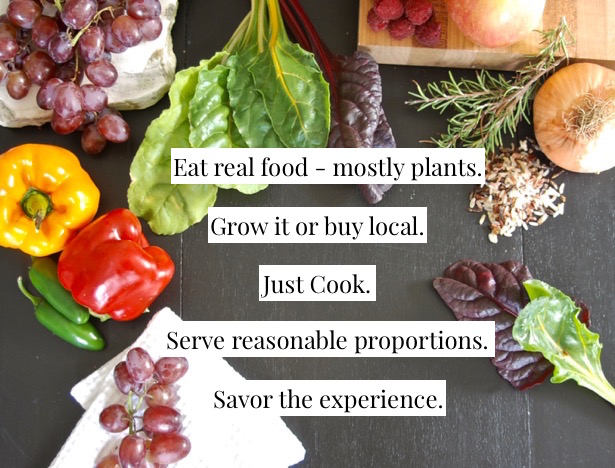 Your philosophy should capture what you believe about healthy eating and your food policies (eat this not that kind of stuff). You may not be able to adopt your philosophy all at once or all the time, but it does set some goals for what and how you eat. I've found it really helpful to think about it as I grocery shop. It motivates me to buy food that is good for me!
Here are two great articles to help in writing your own philosophy:
"Eating Philosophy" by Healthy Diet Habits
"Creating a Healthy Eating Philosophy" by Sugar, Spice, and Glitter
Once you have your healthy eating philosophy figured out, type it up, and print it off. Then post it in your kitchen as a great visual reminder. You could even make a pocket size version to take with you to the grocery store.
Strategy # 3 Boost Your Diet with the Right Vitamins
In January my mother introduced me to a new regiment of vitamins… Juice Plus+ ! Juice Plus+ is whole food based nutrition made from juice powder concentrates of 30 different fruits, vegetables and grains. The intention is to bridge the gap between what you should eat and what you do eat every day. Their philosophy is that the best way to a healthy lifestyle and to reduce your risk of disease is to eat healthily. Basically, the right fuel in your body makes it run better. Simple, right?
I was a bit skeptical at first, but my parents were raving about how great they were feeling after taking Juice Plus+ for only a month, so I figured it couldn't hurt. Now I'm hooked! After 3 months of taking Juice Plus+ I've noticed:
More focus
More energy
Better sleep
Lost weight
To help myself remember to take these vitamins, I put them in an obvious place on the kitchen counter where I make my lemon water in the morning, so it has become part of my routine. I also feel the benefits of these, so I don't have to convince myself to take them – I want to!
Strategy # 4 Find Your Inspiration & Stay Motivated
Take a minute or three to explore your inner feelings about healthy living and what goals you are hoping to achieve. What has inspired you to make a change? Write all this down. It will help make these vague, nebulous ideas concrete. It is perfectly ok to have losing weight as one of your goals. It is on my list too, but make it secondary to the goal of healthy living. I find when I focus on that pesky number on the scale too much I tend to get disheartened quicker and lose motivation.
One way I stay motivated is by following the blogs and social media accounts of trainers, athletes, nutritionists, chefs, and other healthy living gurus. When I see colorful, healthy dishes on my IG feed I feel inspired to cook these recipes or healthy ones of my own. Plus, you get the benefit of their advice and tips.
Here are some of the gurus I follow:
Pink Fortitude – Healthy Living Survival for Real Life
100 Days of Real Food – Cutting Out Processed Food
Vegan Defined – Beautiful IG Feed
Blackberry Farm – Check Out Their IG Feed
Weelicious – Quick, Easy, Nutritious Recipes
Strategy # 5 Exercise & Track Your Progress
I find tracking my exercise sessions helps keep me accountable, allows me to set goals, and motivates me. I'm a task oriented person, and I love to check items off my to do list, so every time I log an exercise session I feel a sense of accomplishment – that's motivation to keep going!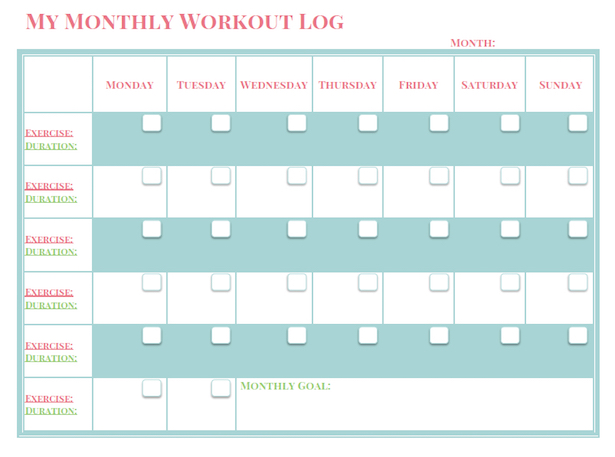 Click the image above to download this workout log freebie!
I print one of these workout logs each month, fill in the dates, and tape this up to my bathroom mirror. I like this location because I see it every morning and evening, which reminds me to get moving.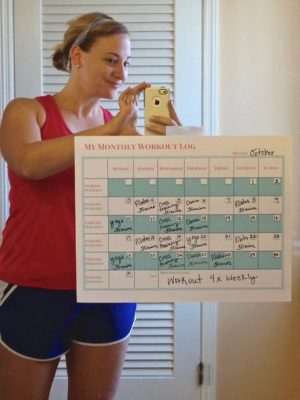 Tackle healthy living in small steps. I didn't try to adopt all of these healthy living strategies at once, and I'm still working on making these strategies habits. I started with strategy #1 to drink more water then started implementing my healthy eating philosophy more and more along with increasing my exercise. Make just one change towards healthy living, and I know you'll feel better and start seeing results!
What healthy living strategies do you use?
Partying at A Stroll Thru Life…Between Naps on the Porch…