Set a Sophisticated Easter Table
Set a sophisticated Easter table with this mix of rustic tableware and pastel details.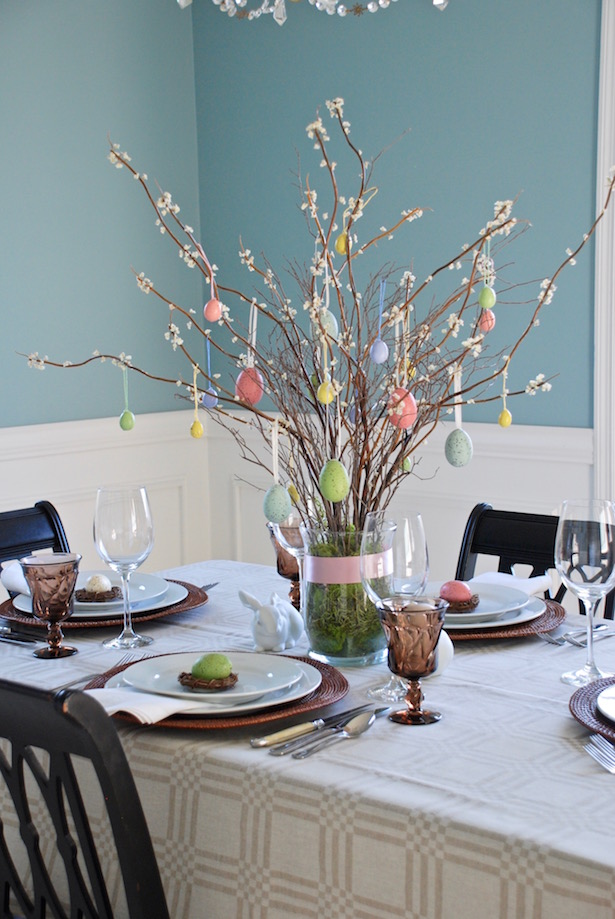 As a child Easter was always an important celebration in my family. We woke up to beautifully decorated Easter baskets, donned new frocks, and set out to a special church service. Lunch at my Grandmother's followed; and then a happy afternoon spent hunting Easter eggs ensued. Not to mention the many hours spent decorating eggs in the days leading up to Easter. Those egg hunts were not your average search and find free-for-all. Great care was taken to hide the eggs, especially those with prizes, and riddles were often posed to aid the searchers in finding the special golden egg, which had a monetary prize.
In the last few years our Easter celebrations have been somewhat lackluster in comparison. But this Easter my mother and I have resolved to revive our old Easter traditions, which inspired me to set this sophisticated Easter table. In looking for decorating ideas for my tablescape, I turned to my newly acquired copy of Martha's Entertaining a Year of Celebrations. This book is fabulous, but what else would you expect from Martha Stewart. Her Easter decorations are simple, vibrant, and elegant.
I was particularly intrigued by the Easter egg tree she created for her living room, which had delicate eggs hung from a large arrangement of long curly willow branches placed in a mossy urn. I decided to re-create this arrangement but shrink it for my table centerpiece. I mixed faux cherry blossom branches with short wispy branches for the tree in a glass vase with floral foam and moss to hold the branches in place. Then I took various sizes of painted eggs and glued ribbon and thread to the top for egg ornaments. I hung these amongst the branches varying color and shape for a charming effect.
Get the Look:
*Affiliate links included*

For the rest of the Easter tablescape, I played with the juxtaposition of pastels and rustic elements like the rattan chargers and linen tablecloth. I used my brown glass stemware to add to the woodsy, natural feel and placed a pair of ceramic bunnies at the base of the Easter egg tree. For the place cards, I couldn't resist amping up the cute factor, so I used the remaining painted eggs in small grapevine wreaths for nests. Crisp white plates and monogramed napkins complete the look, keeping the tablescape fresh and simple. I think this juxtaposition makes for a very sophisticated Easter table.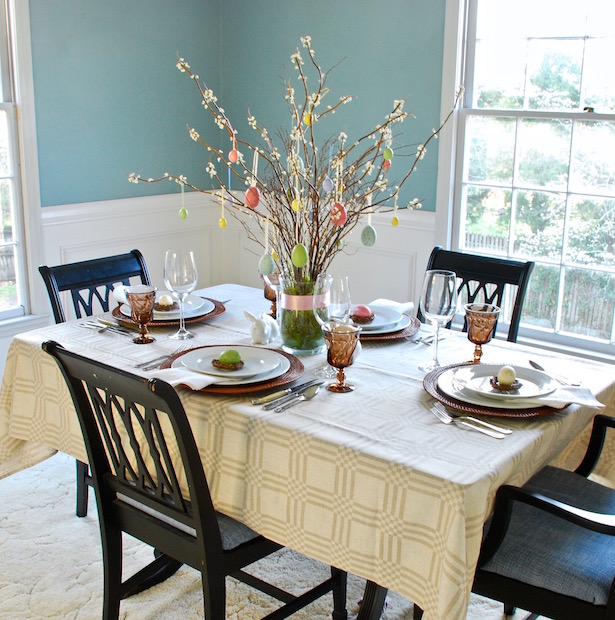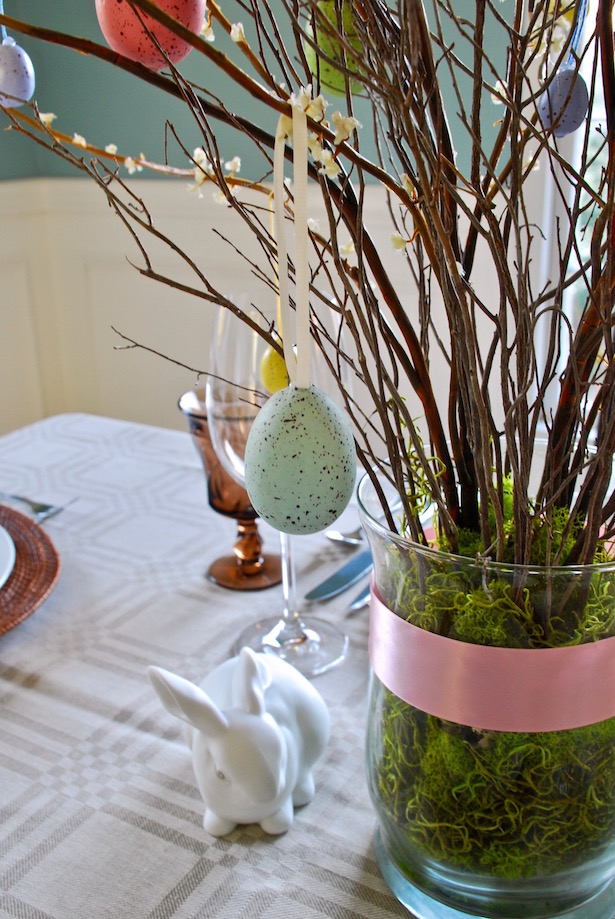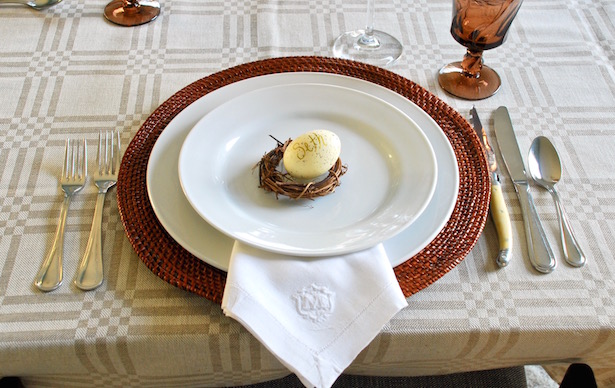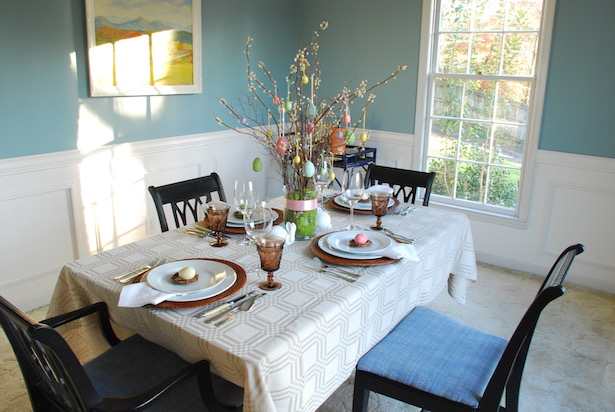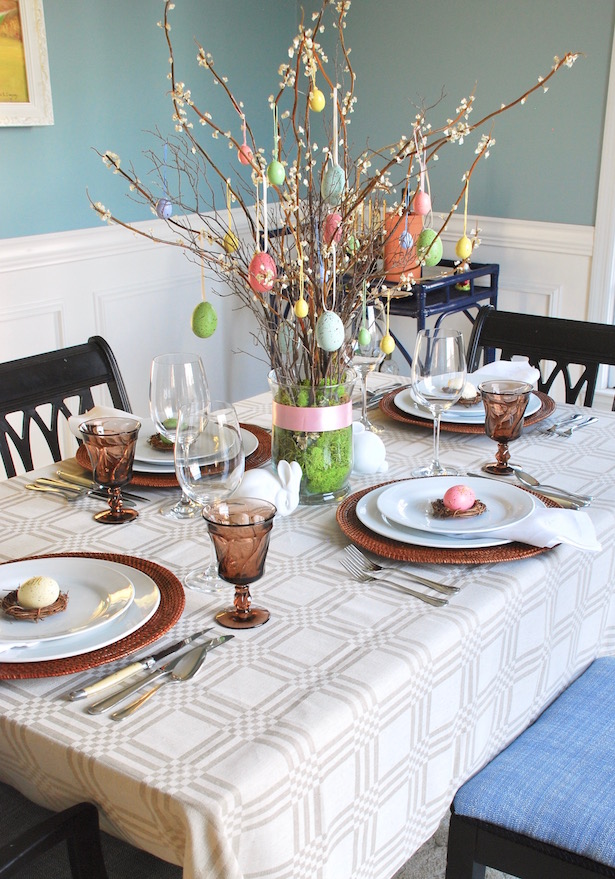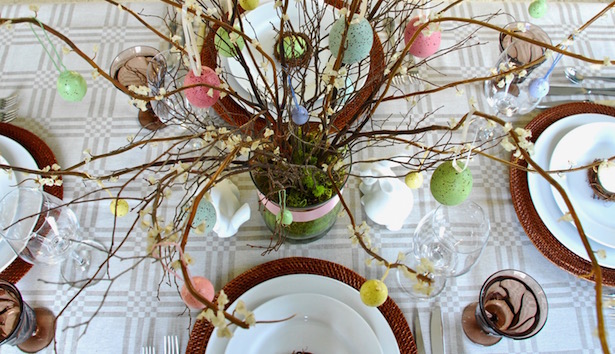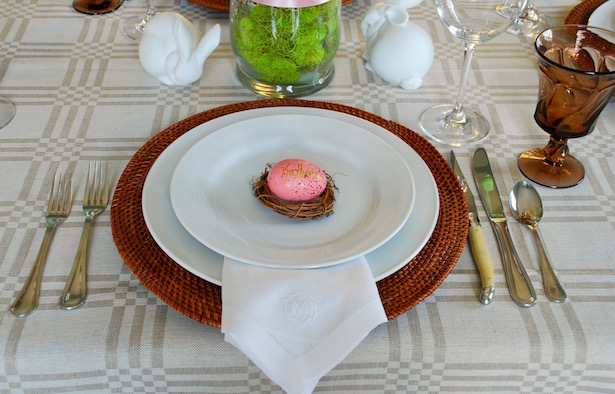 Happy Easter!!!

Partying at A Stroll Thru Life…Between Naps on the Porch…
SaveSave