I've got closets…closets…closets on the brain this week! I'm planning a major closet makeover of my 3 entryway closets this month, and shared my organization and storage strategies for those spaces here.  Putting together those plans and shopping for storage solutions, got me thinking about my dream walk in closet.  Really, what girl doesn't have lofty aspirations for her dressing area?
Currently, the master walk in closet is part of our bathroom, and I can't wait to renovate this whole space. It desperately needs to be modernized, and I would love to create a dressing area.  This renovation is a bit far down on our list of projects, but I just couldn't keep myself from visualizing my dream walk in closet, so I created a mood board.  This way when we get ready to renovate I'm prepared with plans and products for the space.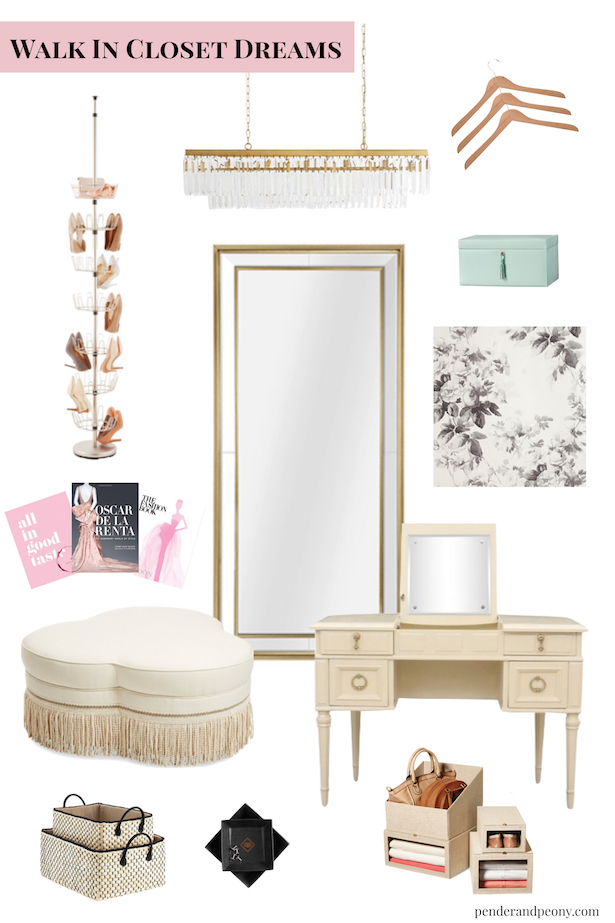 Shoe rack // Chandelier // Hangers // Jewelry Box // Books // Mirror // Wallpaper // Ottoman // Vanity // Baskets // Trays // Boxes
My dream walk in closet is perfectly organized first of all. Everything has a home, and all that hard to store clothing is properly put away.  I love the idea of a spinning shoe rack to organize shoes and make them easily accessible.  Shoes always seems to be a problem storage area, and this rack makes it easy.  Baskets and boxes are essential to store folded clothing, and the Container Store's drop-front boxes with see through panels are the perfect solution.
Jewelry and accessory storage is another key component of my dream walk in closet.  I think a vanity with drawers combined with catchall trays and a jewelry box are excellent organizing remedies plus an antique vanity is so chic.
While organization is key to any well executed walk in closet, my dream space also has to be beautiful.  I'm visualizing glamorous but neutral decor in a black and white color scheme, using a subtle but interesting wallpaper. The full length mirror and dramatic chandelier from Arhaus add the glamor! I love the Art Deco style of this chandelier, and it's long but skinny shape is perfect for a narrow walk in closet space!
What does your dream walk in closet look like?