A Gracious Traditional Dining Room
We have been in our new house almost 10 months! Wow! I can hardly believe it. We have accomplished so much least of which is new wiring, new kitchen appliances (the old ones all quit within about a week-ha), and about 40% of the wallpaper is gone!
I've been slowly working on decorating plans for the house and have finally determined the dining room look. This is such an important room to get right, since it has to be perfect for entertaining as well as quiet family dinners. I want the room to be formal but not stuffy; filled with antique treasures but not out-dated; and très chic. In other words, I want a gracious traditional dining room!

A friend of ours has just moved into a gorgeous property in London that she found online using thespacestation.co.uk and her new dining room looks amazing so we have taken some inspiration from her fantastic eye for detail! There are some amazing luxury real estate opportunities online nowadays and so many fantastic properties. You just have to be prepared to do some research first. Additionally, there are so many amazing ways to buy properties in London too. My friend was telling me that some council home occupants are able to purchase their rented house for discounted prices. Whilst this isn't available to everyone, it's such a great way of helping people to own their houses. All they have to do is use a right to buy mortgage calculator and they're able to see how much discount they could get. Unfortunately, that scheme wasn't available to my friend, but she knows someone who was able to use that scheme and now they own their previously rented home!
Anyway, S. and I have already accomplished a lot in this space with the new paint colors, chair rail, and faux frame wainscoting. See the wainscoting DIY transformation here. See the crown molding transformation here.
A Gracious Traditional Dining Room
The room needs two more major renovations, crown molding and hardwood floors, before I can totally go into decorating mode, but I wanted to finalize the dining room mood board so that there is a clear vision to work towards. The top half of the walls are painted interesting aqua from SW and the bottom with the wainscoting is just a basic white. We will be keeping the crystal chandelier. It is simply stunning! It reminds me of a custom chandelier I have seen from lightart.com and I absolutely adore it. The picture above does not do it justice.
Pssst…this chandelier is actually one of the reasons I wanted this house. That's ok right? To buy a house because of the chandeliers!
For my dining table I want a traditional pedestal table in mahogany with classic Louis XV chairs. The chandelier, table, chairs, and wainscoting form the basic traditional elements of the room and then I want to be a bit more playful with the fabrics and colors. I'm still a little undecided about the sideboard and whether to go traditional with it or do something eclectic like this French provincial piece.
I'm so excited about my fabric choice for the curtains. It is an embroidered trellis pattern from Duralee. The color matches perfectly with the walls, and I love how sophisticated but modern it feels. For the chairs, I want to keep the cushion fabric simple with just a hint of pattern in the weaving and then create a playful pop on the back with a cheery floral.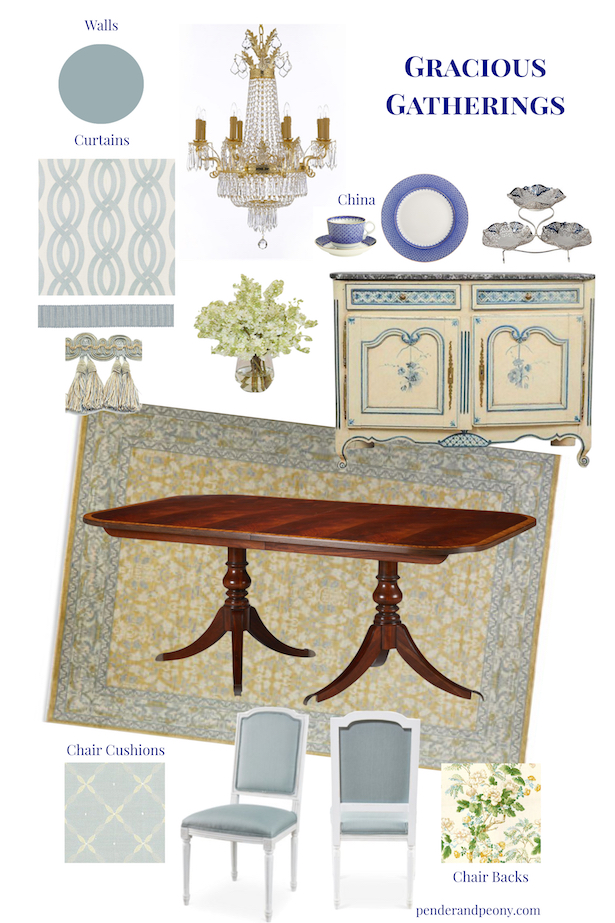 Interesting Aqua // Curtains // Rug // Chair Cushions // Chairs // Chair Backs // Table // Chandelier // China // Silver // Sideboard
In creating my gracious traditional dining room look, I was greatly inspired by the below rooms:
Dining Room Bar Cart
Another important element of my gracious traditional dining room is of course a bar cart! I have long loved the look of the Society Social carts and painted rattan. A while ago I found a rattan bar cart to DIY. The picture below was my inspiration. See the DIY tutorial here.
Stay tuned as we work on finishing this room! See the latest renovation in the dining room here.
Partying at The Dedicated House…Between Naps on the Porch…
SaveSave