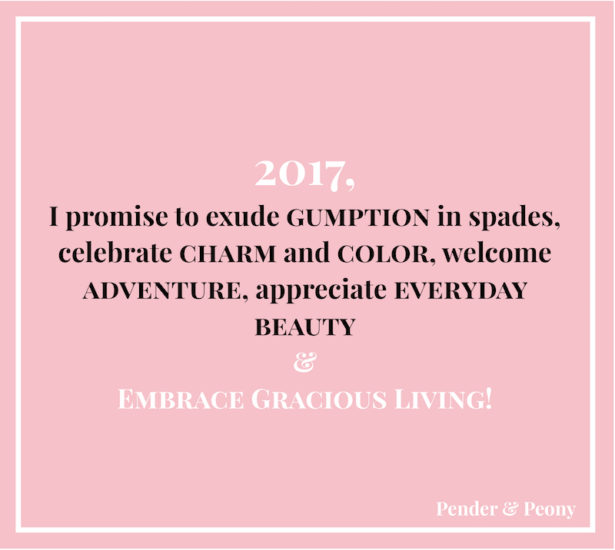 It's that time of year – time for reflection and setting goals! Do New Year's resolutions ever really stick? What's that they say about the best laid plans? But seriously, I do think it is important to take stock of where you've been, what you've accomplished, and where you want to go as we start a new year, so here goes:
2016 was a year of adventures. S. and I left Charlotte behind and moved to a new state. Hello Tennessee! We left our newly renovated house for a total fixer upper that has a mile long fix me list. And I left my job at the museum – a career that had been my life long dream – and I'm now pursuing writing this blog full-time with a side dabble in adjunct teaching. Wow! Can I get a high five? Or maybe a hug?
It's been really hard at times…only a one word explanation needed…mice! I think S. and I have both questioned our decision to move, and 9 times out of 10 we didn't come up with a cheery affirmation. But at the same time, if I found Aladdin's lamp, I wouldn't use one of the wishes to return to Charlotte. Gosh that thought is a bit staggering because I really do miss Charlotte at times and the friends I made there ( shout out to my Mint peeps and A. & A. ). Not to mention how much I miss Carolina! I'm just a Carolina girl through and through.
As they say, you can take the girl out of Carolina but you can't take the Carolina out of the girl!
I'm really proud of how much P&P has grown. Since July the blog has grown from 100-200 views a month to over 12,000 in December! I really appreciate all of you lovely readers! Most importantly, the growth is not just in terms of numbers, I re-defined my purpose for P&P, and delivered some great content if I do say so myself.
Some of my favorite posts from 2016 have been about the South. Didn't y'all love this one about Southerners' directions and this one about the etiquette of receiving a call? I had a lot of fun creating tablescapes to inspire your seasonal decorating. The blue and white autumn table is probably my favorite, and then there are the DIY tutorials: fabric chargers, rattan bar cart, and boxwood wreath! Plus, I hope I've helped y'all decorate your homes with my worksheets: color scheming and open-concept decorating.
So 2017, I say bring it! I'm ready for your challenges and your triumphs! I'm going to welcome the adventure and celebrate your charm and color. And I promise to face it all with gumption and grace.