Throw a Charming Holiday Brunch
I'm sharing my family's Christmas brunch tradition and ways to set a festive table for your holiday brunch with plaid placemats, splashes of red, and winter greenery!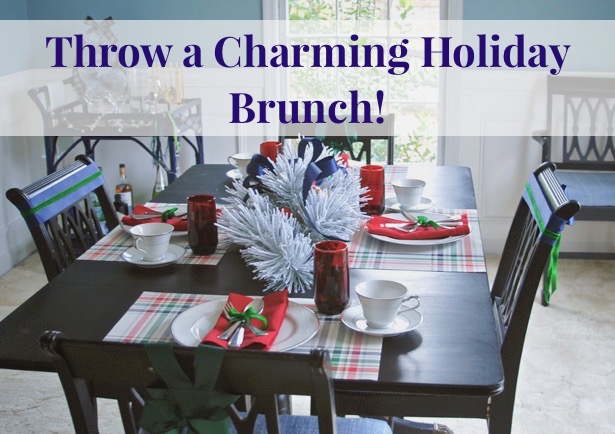 The magic of Christmas morning is undeniable. Childhood delight fills the air as family gathers around the Christmas tree to see what Santa brought. Wrapping paper flies, carols play, lights twinkle, and pure joy ensues.
I love Christmas morning. As a kid I eagerly woke up everyone in the house, and impatiently waited to be allowed in to the living room to see what Santa left. The catch was I had to wait until my parents, brother, aunt, and grandparents were awake and present before I could go in. For them it was vital that they get to see my face all lit up with joy at the first look.
I never understood this as a kid always trying to sneak a peak. Now thinking back on this Christmas morning ritual, I not only understand it, but it makes me feel so loved and cherished. While S. and I don't have children yet, this is definitely a holiday tradition I plan on continuing.
Now, as an adult, I anticipate a more grown-up tradition in my family that morning: our holiday brunch and my mother's sausage quiche served with fresh fruit and a bloody Mary! Yum!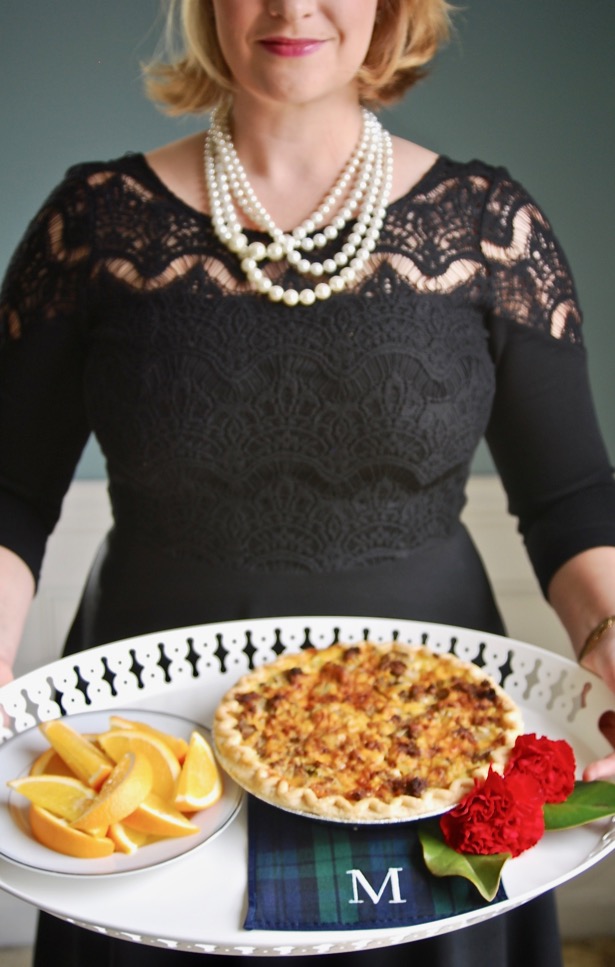 In preparing to host a holiday brunch for a few girlfriends, I couldn't help but think about this dish and how much fun it would be to share this Christmas morning tradition with them and you lovely peonies! So grab a cup of coffee and come on in!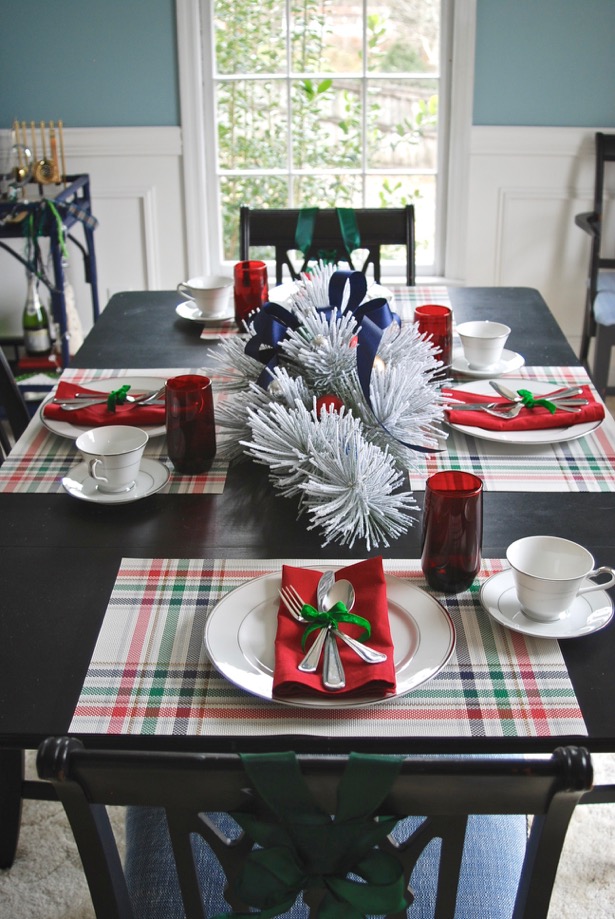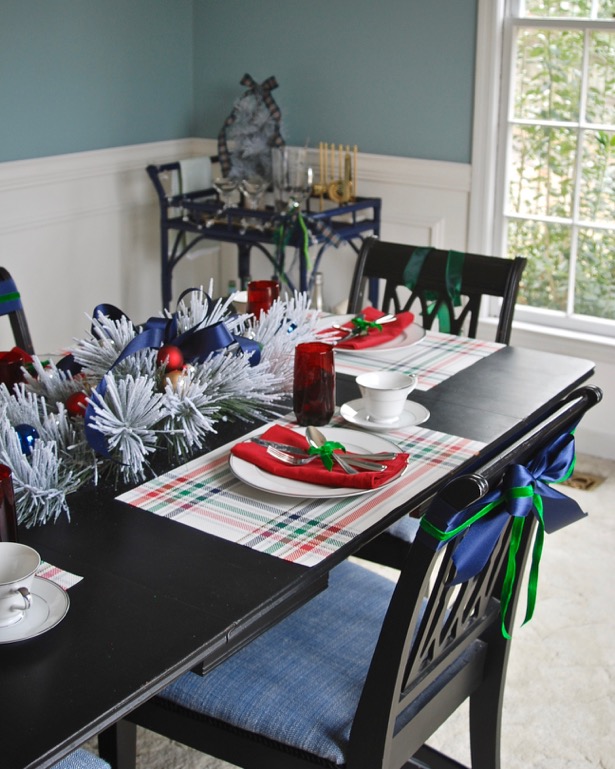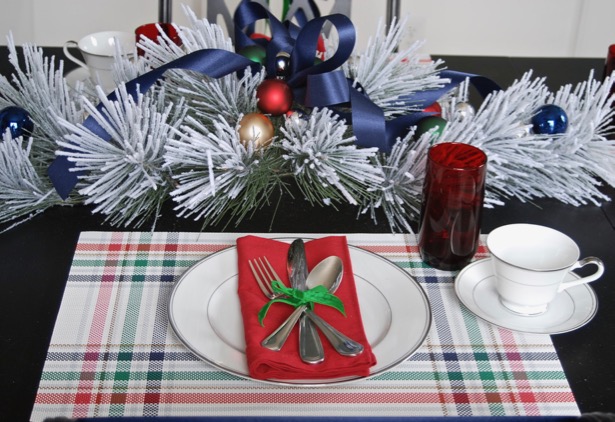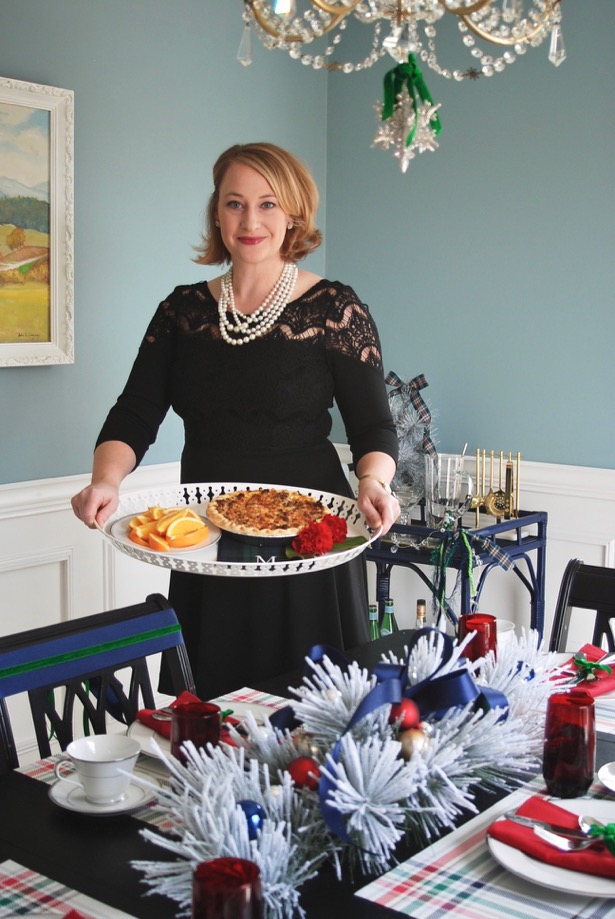 Holiday Entertaining
I believe the most important part of entertaining during the holidays is spreading Christmas cheer, and the best way to do this is by sharing Christmas traditions and memories that are meaningful to you and your family. So host an intimate Christmas gathering and create wonderful new memories!
Keep your holiday brunch party simple, but classy. To throw my holiday brunch, I laid a more casual tablescape using plaid Kate Spade placemats and simple white china inherited from my great-aunt with bright splashes of red and wintery pine boughs. I found these placemats at Belk and just couldn't resist the festive plaid that fit in with my blue and green color scheme for this year's Christmas decor. Plus the placemats are made out of vinyl, so super easy clean up and the price tag was irresistible.
For the centerpiece, I took two long-leaf, flocked faux pine branches and turned them stem to stem. I tied a multi-loop bow out of navy satin and nestled it in the center. Then I snuggled red, blue, green, gold, and silver ornaments in the needles. This was a quick and easy centerpiece that will stay on my table all season long for my everyday decor.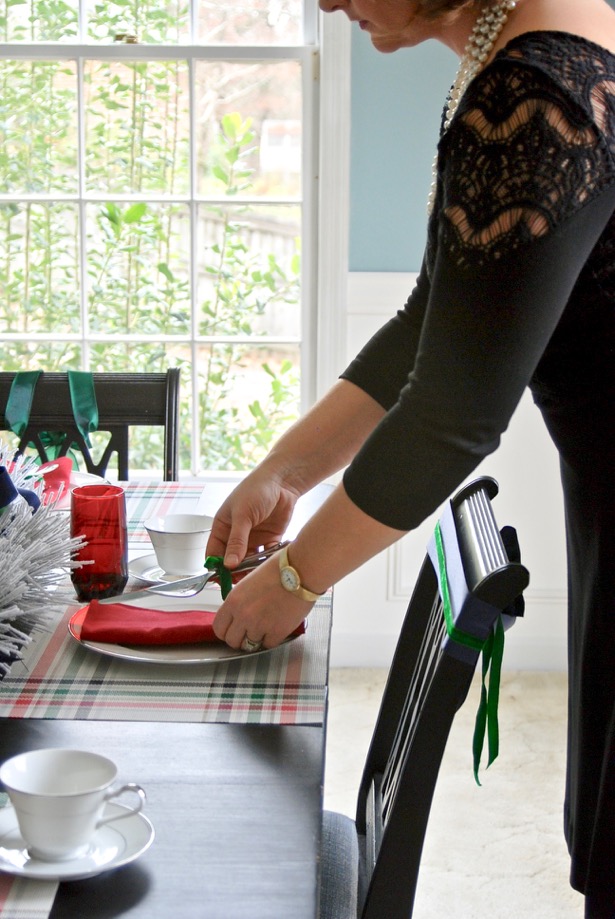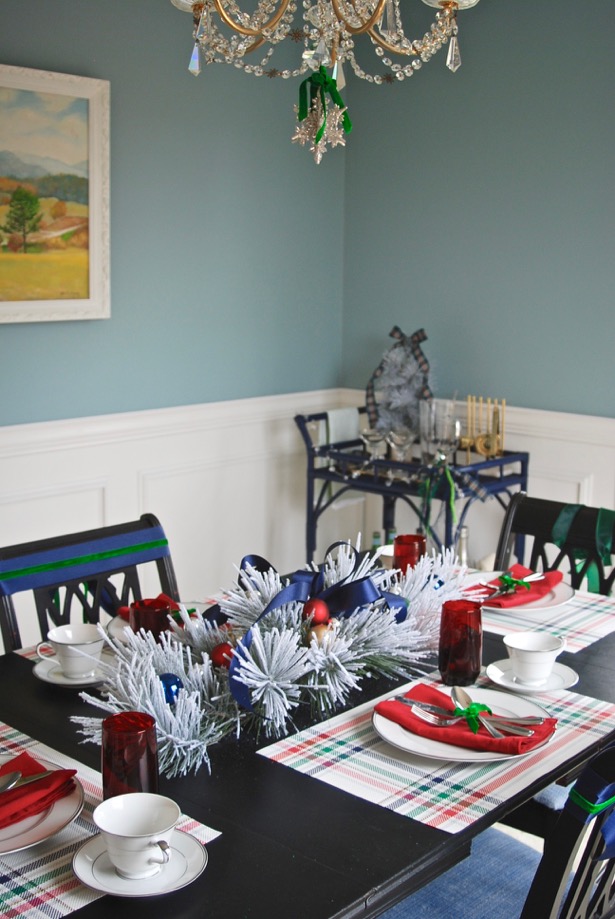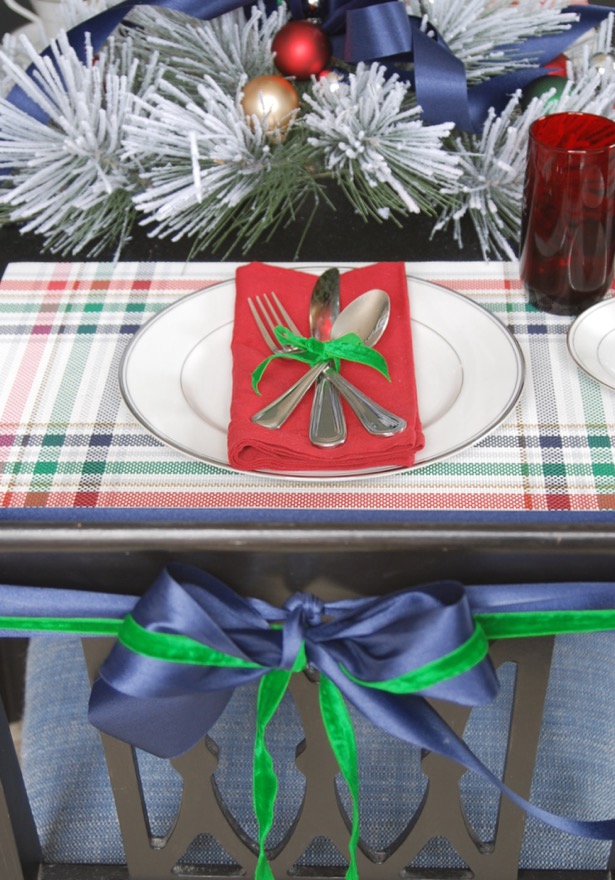 Holiday Brunch Menu
My Christmas brunch menu consisted of sausage quiche, orange slices, and a kale salad. I also served bloody Mary's, mimosas, and coffee. My mother has been serving this sausage quiche Christmas morning for as long as I can remember. The recipe comes from the 1979 Southern Living annual cookbook courtesy of a Mrs. B.N. Brown from Tennessee. Big thank you to Mrs. Brown for sharing this delicious recipe with Southern Living and consequently my family!
My mother has perfected the recipe over the years, and she doubles the ingredients to make two quiches. Usually, she also takes a little short-cut and buys deep dish pie crusts instead of making her own. To serve this Christmas morning, my mother preps and mixes most of the ingredients on Christmas Eve. Then Christmas morning she fills the pie crusts and pours the egg milk mixture over the filling and bakes them.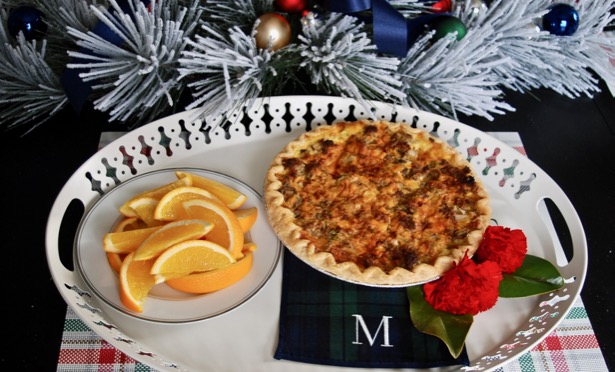 Sausage Quiche Recipe
Ingredients:
Makes 1, 9 inch quiche
9 inch deep dish pie crust
1 Ib hot sausage
4 oz can sliced mushrooms
1/2 cup chopped onion
1/4 cup chopped green pepper
1/2 tsp whole basil
1 tsp parsley
dash of garlic powder
1 1/2 cups shredded cheddar cheese
1 cup milk
2 eggs
paprika
To Make:
Pre-heat the oven to 325 degrees. Brown the sausage and drain. Sauté the onion and green pepper. Mix the sausage, onion & pepper, basil, parsley, garlic, mushrooms, and a cup of the cheese together. Fill pie crust. Then mix the milk and eggs together until foamy. Pour evenly over the filled pie crusts. Sprinkle the remaining cheese on top with a dash of paprika. Bake on 325 degrees for 50 minutes until lightly browned and the quiche is set.
This sausage quiche is a delicious and hearty dish perfect for your holiday brunch or a cold winter morning! It keeps really well and can even be frozen and re-heated. I recommend serving it with an earthy green salad and a bright citrus for balance. The quiche pairs really well with tomato juice too, so whip up some bloody or virgin Mary's!
A big pot of coffee is always welcome Christmas morning as well, especially if the kiddos woke you up at the crack of dawn like I use to do. For larger holiday events, consider wholesale coffee.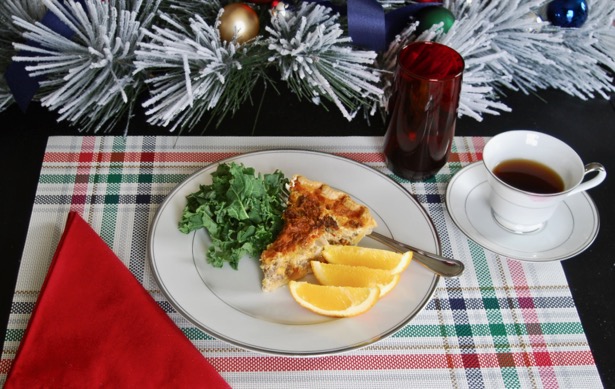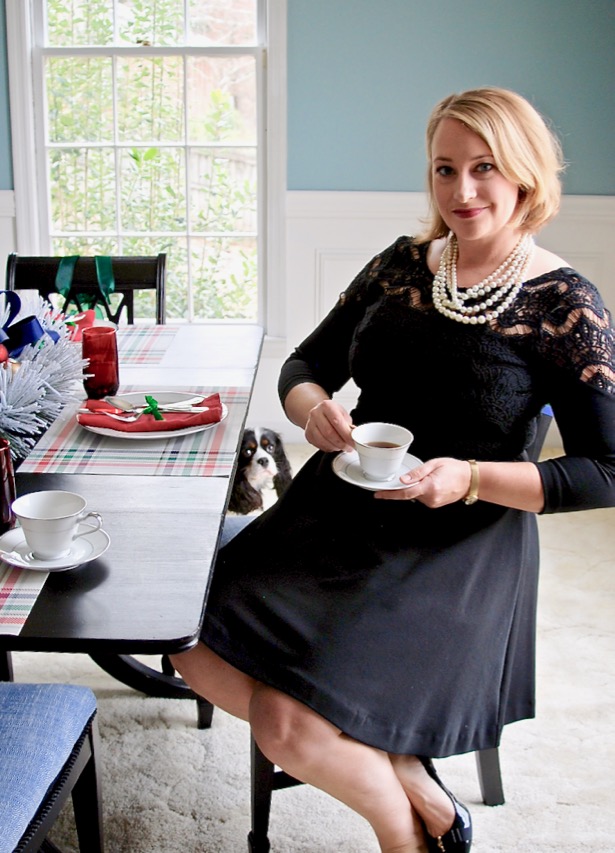 Do you see the little imp that snuck in my picture? Oh Henry!
I hope you have a joyous Christmas season! Let me hear from you: What are your special Christmas morning rituals?
Partying at Between Naps on the Porch…A Stroll Thru Life…The Dedicated House…Honest Mum…
SaveSave