Rhubarb Apple Sangria with Ginger
Who doesn't love sangria? I don't know a single person, and what's not to love? It's tangy, sweet, and fruity. Plus, sangria is so versatile, and it pairs well with any occasion by the pool or in front of the fire.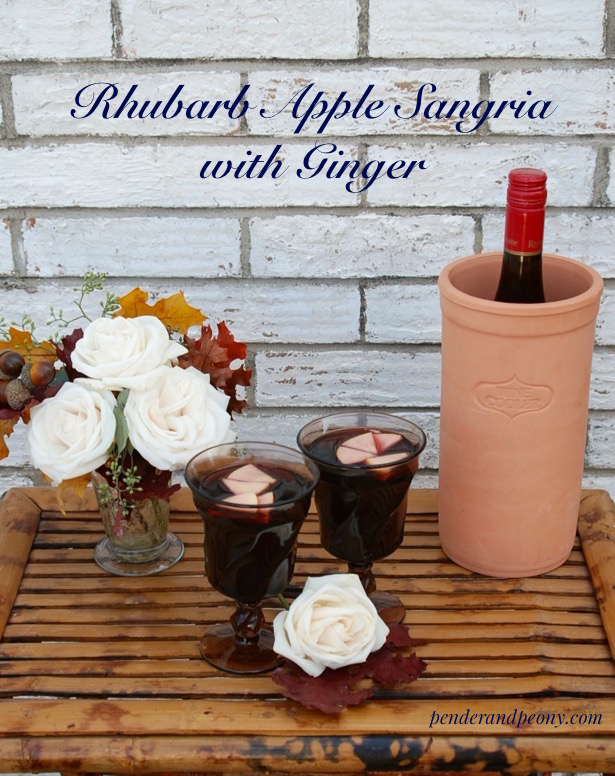 Today, I'm sharing with you my recipe for rhubarb apple sangria made with red wine and a fruity shrub that is perfect for autumn. You may be thinking…shrub? I don't want to put a bush in my wine! What's a shrub?
Shrubs are fruity drinking vinegars made from steeping fruit, sugar, and vinegar. From this melding you basically get a syrup that can then be mixed with soda for a healthy version of pop or used in a variety of other ways. Shrubs have been around a long time and, in fact, were popular in Colonial America.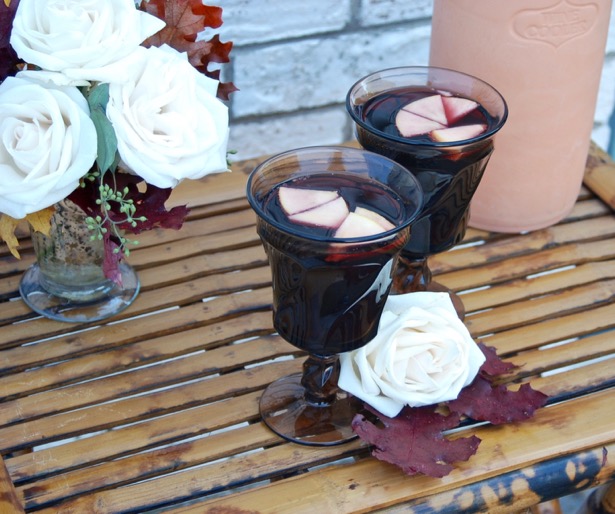 Jenny at the Domestic Wildflower introduced me to shrubs through her great e-mail course, and I'm a full blown shrub devotee now! Shrubs are amazing. You can do so much with them whether it's using them in a salad dressing or a cocktail. Plus the recipes and instructions Jenny teaches you in her course are easy to understand and replicate, so that you can quickly get creative with your own shrub concoctions.
This rhubarb apple sangria is so quick and easy to make once you have your shrub prepared. You don't need to add other liquors or much fruit to the wine because the shrub adds such intense flavor. This rhubarb apple sangria recipe is also inexpensive!
Apple, Rhubarb, Ginger Shrub
1/2 Cup Rhubarb Cut into 1″ Slices
1 Cup Chopped Apple
1 Cup Sugar
1″ Ginger Roughly Chopped
1 1/2 Cup Red Wine Vinegar
Mix the sugar, apple, rhubarb, and ginger together in a quart mason jar. Let sit for 24 hours. Stir in the vinegar. Make sure all of the sugar has melted, and is not stuck at bottom of jar. Let sit for one week, stirring or shaking daily. Strain. Pour in glass jar, and store in refrigerator.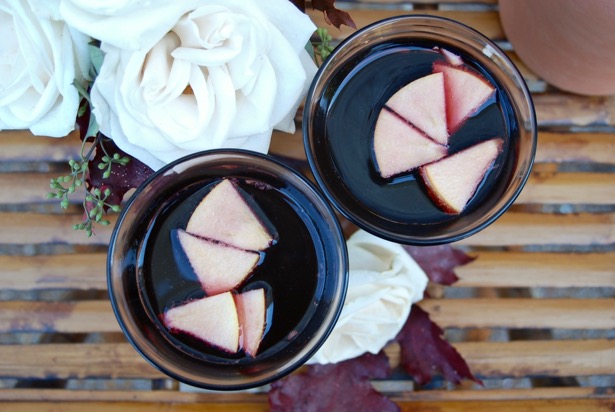 Rhubarb Apple Sangria with Ginger Recipe
1 Bottle Reunite Lambrusco
4 Tbsp. Apple, Rhubarb, Ginger Shrub
1 Cup Sliced Apple
Pour Lambrusco into a pitcher and stir in shrub. Add sliced apple and serve.