Open Concept Decorating: Lessons from Fixer Upper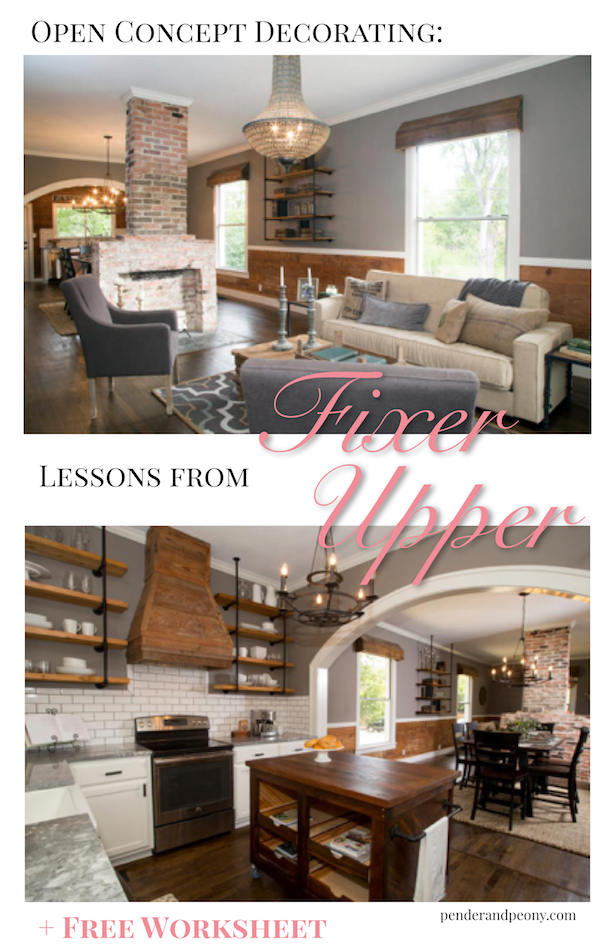 Alright lovely peonies, let's talk about open concept decorating. Open floor plans are immensely popular right now as we well know. There are endless examples in design magazines and if you watch HGTV, which be honest we decoristas all have a slight obsession with, then you've seen designers knocking down walls left and right like it's their mission! The first words out of Joanna Gaines mouth when she goes into a fixer upper are usually "I would take out that wall." It's often that fixer-uppers don't get snapped up by families or couples, they might not want to work to do on fixing the place up, or there could be other reasons. Although, fixer-uppers can come as a little run-down, they can actually have huge mark-up and profit potential, for example, have a read into this investing in turnkey real estate guide to see who and why people choose fixer-uppers to turn into "turnkey properties" for investment purposes! It would make sense to do this from fixer-uppers, as they are somewhat a blank canvas for people to turn into something general and classy for the tenants that could come and go. It's also the same reason those that don't mind a little DIY may take on a fixer-upper, to have a blank slate to reimagine how they'd like to decorate the house!
There are valid reasons this layout is so popular. It conjures up images of inviting, bright, and airy spaces that flow. Open concept feels more casual, more contemporary, and in keeping with how we live today. It makes the kitchen the heart of the home, a place for socializing, where in decades past this room was more separated and closed off. Open concept is all about the communal living space!
---
What exactly defines open concept or open floor plan designs?
There are few or no dividing walls between living areas. In other words, the kitchen, living room/family room, and dining room are all one big space.
---
Joanna Gaines has a particular talent for designing and decorating open floor plans. The houses she and Chip makeover for Fixer Upper always showcase the very best of this layout. The rooms are open, bright havens perfect for entertaining and family time. Fixer Upper has come to define what we think of as farmhouse style and contemporary open concept.
But an open concept floor plan is more tricky than just knocking down walls. There are inherent problems with this design choice that rarely get talked about, including lack of privacy, reduction of storage, a tendency to look messy, and the prevalence of kitchen odors and noise. Plus, there is the challenge of creating unified design while establishing separate zones.
So how does Joanna Gaines achieve the perfectly designed and decorated open concept space every time?
A simple 4 step design formula! These decorating steps help solve the inherent problems of open floor plans and create an inviting, contemporary, flowing space. If you watch enough Fixer Upper, you will see Joanna use these decorating strategies in almost every house they makeover. This formula is applicable to any open concept home regardless of your decorating style. You don't have to be a devotee of farmhouse style or adhere to a neutral color palette to use these 4 strategies decorating your home.
An Open Concept Decorating Formula

Step No. 1 Unify the Design and Decor of Connected, Open Rooms
With less walls and spaces open to each other, this layout makes it important for your furnishings and decor to coordinate well. You do not have to get "matchy matchy," but you should create a cohesive space that feels connected. There are several key ways to do this:
Use common materials throughout the space.
Repeat motifs, patterns, or textures.
Choose a color scheme for the open concept areas.
Joanna's style is distinctive in part because she repeats certain decor elements over and over. Just try to think of one Fixer Upper house without rustic wood elements or a neutral, grayish wall. Not possible right? Repeating decor elements is essential to achieving a harmonious open concept space whether it's with color, pattern, texture, or material.
Check out this post to help you create a home color scheme + free worksheet!
Step No. 2 Create Separate Zones
Although your open concept space should feel connected and harmonious, you should still establish separate zones for the varying activities your family will pursue in this space. To establish separate but connected zones create furniture groupings and use area rugs and lighting to define these spaces.
To further define each zone create a focal point for each area or use architectural dividers like fireplaces, beams, arches, or french doors to break up the space. The brick fireplace in the photo above acts as a great architectural divider, while still allowing flow between the living and dining areas.
Step No. 3 Make Open Spaces Feel Comfortable & Cozy
The big open spaces created by these floor plans can feel cold and impersonal. To counteract this, open concept decorating should incorporate cozy textures and accessories. Joanna does this through comfy, plush sofas and chairs, lots of throw pillows, plants, and wood accents with warm tones. To make your space feel cozy:
Use appropriately proportioned furniture – scale up.
Add soft materials with rough textures like linen or wool.
Mix warm and cool tones.
Incorporate round shapes.
Step No. 4 Prioritize Organization
One of the biggest problems with open concept layouts is the loss of storage space and inability to close off messy areas of the house. In other words, lack of built in storage and closet space often leads to dis-organization, and if you have a mess in one zone of your open concept space than the whole area can look messy. This makes including storage options and methods of organization essential to open concept decorating.
On Fixer Upper, you see Joanna do this in several ways. She often creates entryway drop zones and uses storage bins, storage furniture, and built-in shelving throughout the spaces.
I hope the 4 step formula and these open concept decorating lessons from Fixer Upper's Joanna Gaines help you create an open concept home you love!
Want more help decorating your open floor plan space? I created an easy worksheet based on the 4 step formula to help you pinpoint problem areas, define zones, and unify your decor!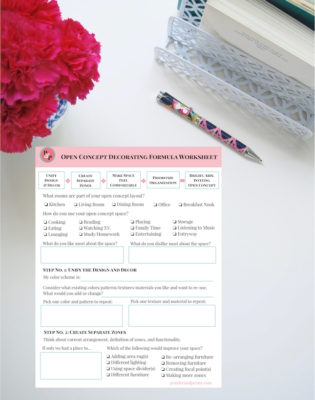 Partying at Between Naps on the Porch...A Stroll Thru Life…