This rustic Thanksgiving table provides a rich and warm setting for friends and family to gather around this holiday. The multi-colored plaid in autumnal tones lays a bold foundation for Mason's Ascot plates, antique silver, and Laguiole bone knives. Monogramed linen napkins, soft candle light, and brown glass stemware add that extra oomph.
I'll admit, I love dressing my table and will dress it for any occasion, whether that be Easter, Christmas, or in this case, Thanksgiving. I would say that dressing the table for Thanksgiving and autumn is my favorite time to dress it because there are so many great fall table dйcor ideas out there and I love the warm colors! Plus, you can get really creative and let your imagination run wild.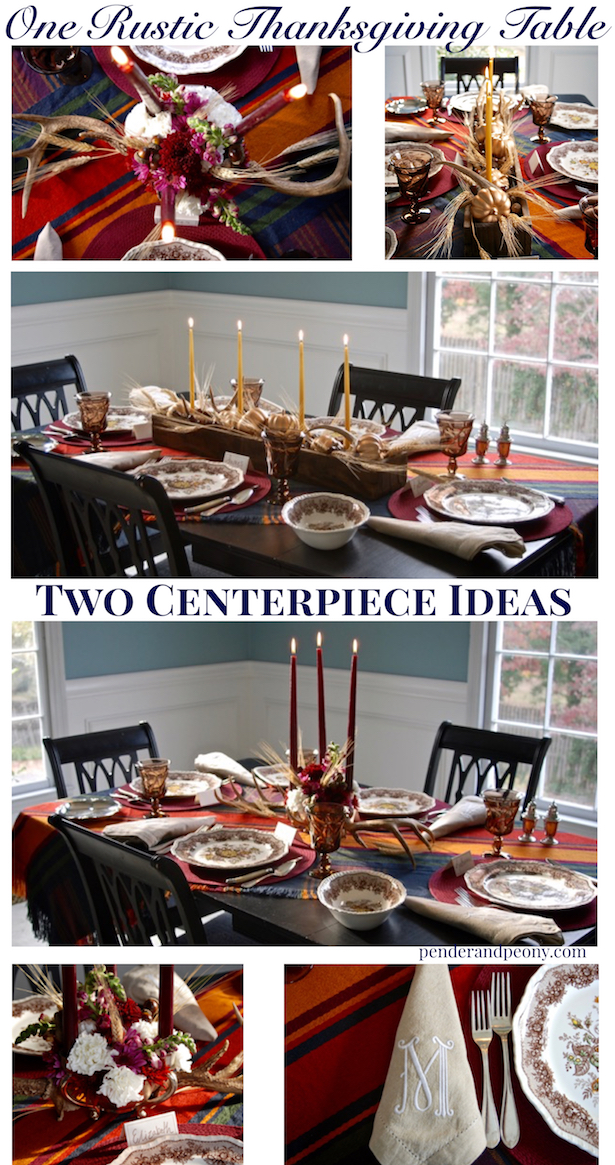 To get the look of a rustic Thanksgiving table start with china that has an autumn harvest feel. Spode's Woodland pattern or Juliska's Forest Walk are great choices. Then choose a tablecloth or runner in a plaid, gingham, or textured natural fabric that pairs well with the china. Next accent with rustic elements like antlers, pumpkins, acorns, wheat, fall leaves, or wood.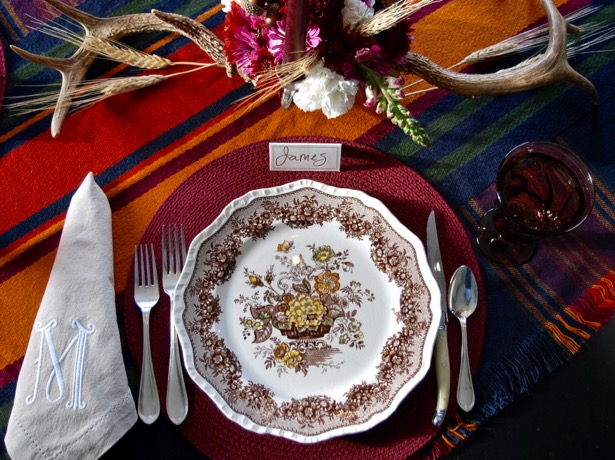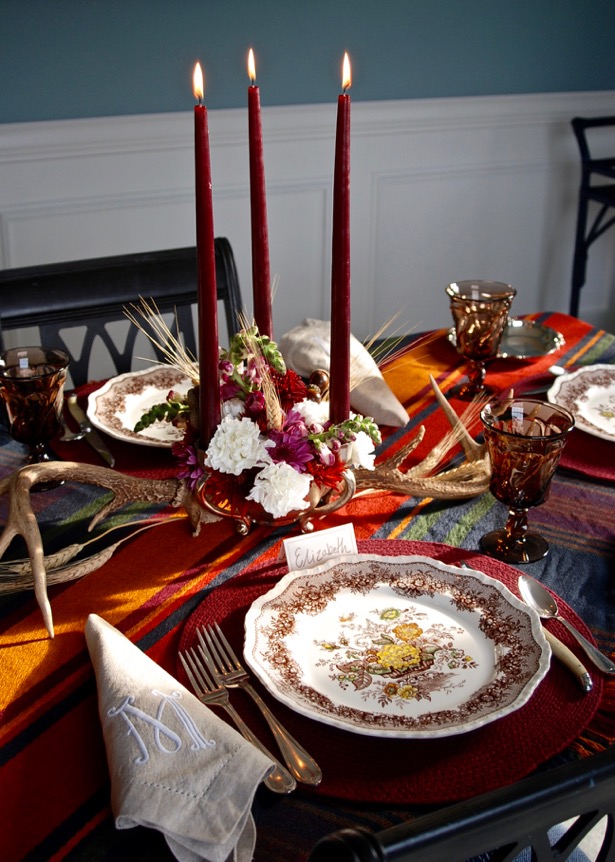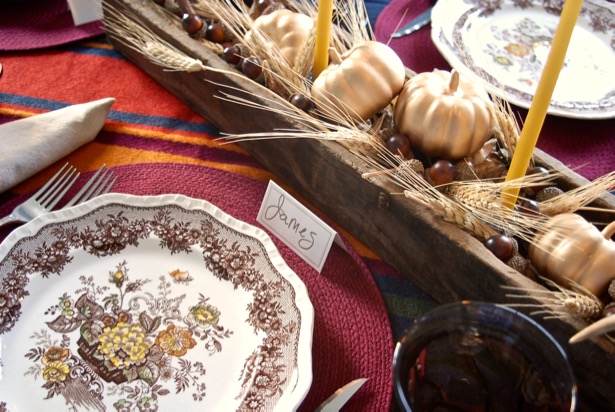 Rustic Thanksgiving Table Inspiration
My inspiration for this table started with these Mason's Ascot plates that I found at a little antique shop. I purchased them for a very reasonable deal and knew they would be perfect for fall and Thanksgiving tablescapes. The shop only had three, so then I went on a hunt for more pieces in this pattern. Thank the Lord for eBay! I lucked out and found more plates plus a couple serving pieces.
Choosing the table runner turned out to be the hardest part of putting together this rustic Thanksgiving table. I was set on a table cloth or runner that had a wine color/burgundy hue. This was not so easily found. In the end, I totally repurposed something for the runner. Can you guess what it is?………A scarf!
As I laid out the Thanksgiving tablescape two ideas for the centerpiece occurred to me: one using this lovely silver candelabra flower bowl and the other using a farmhouse style wood box centerpiece. I could envision jewel toned flowers mixed among wheat and acorns all spilling out of the silver piece, while in the wood box I could picture a more casual jumble of little pumpkins, antlers, wheat, and acorns. In the end, I decided to make both.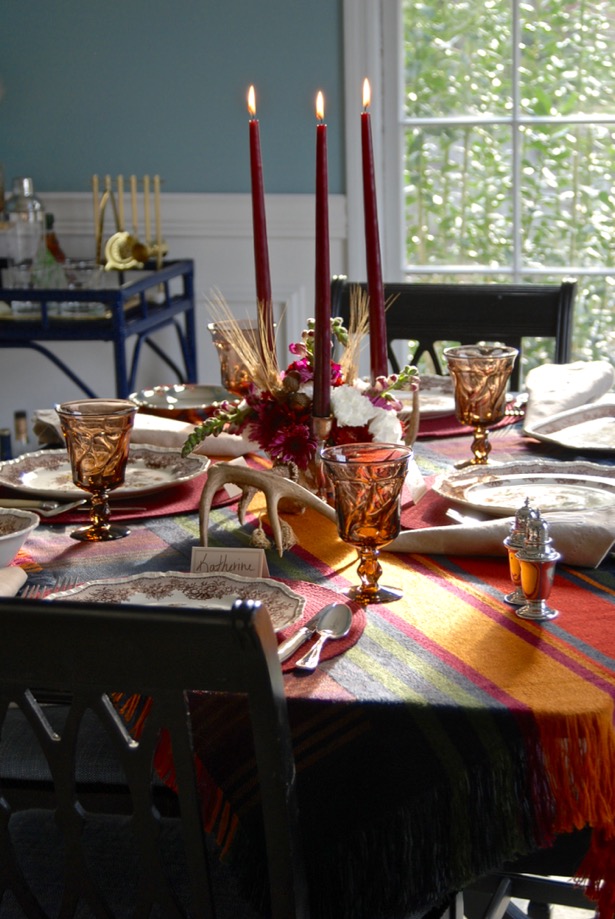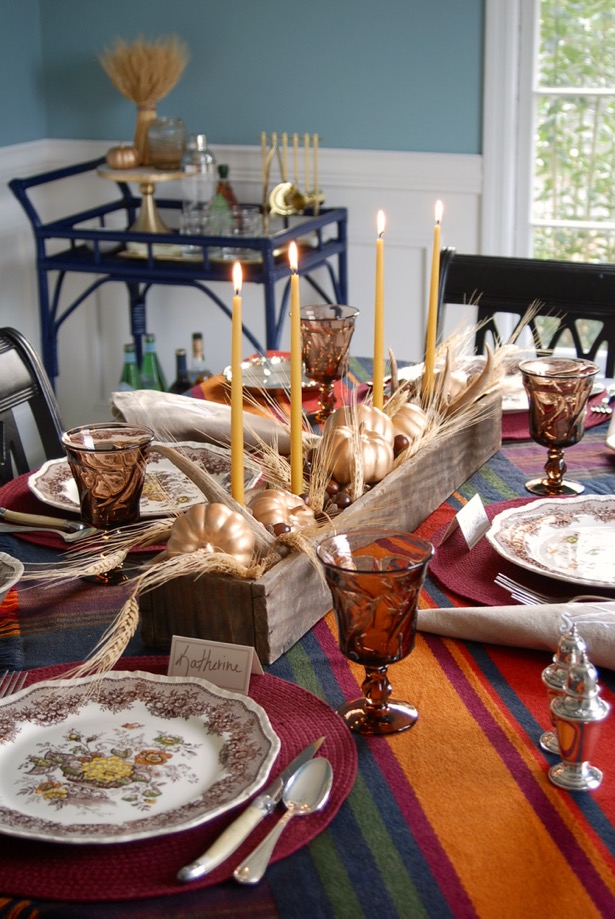 Floral Centerpiece
The flower centerpiece makes the table feel more elegant, more refined. It adds an extra punch of color with the burgundy dahlia and mums against the crisp white carnations. This centerpiece allows a bit more room on the rustic Thanksgiving table even with the antlers radiating out from the silver candelabra and flowers.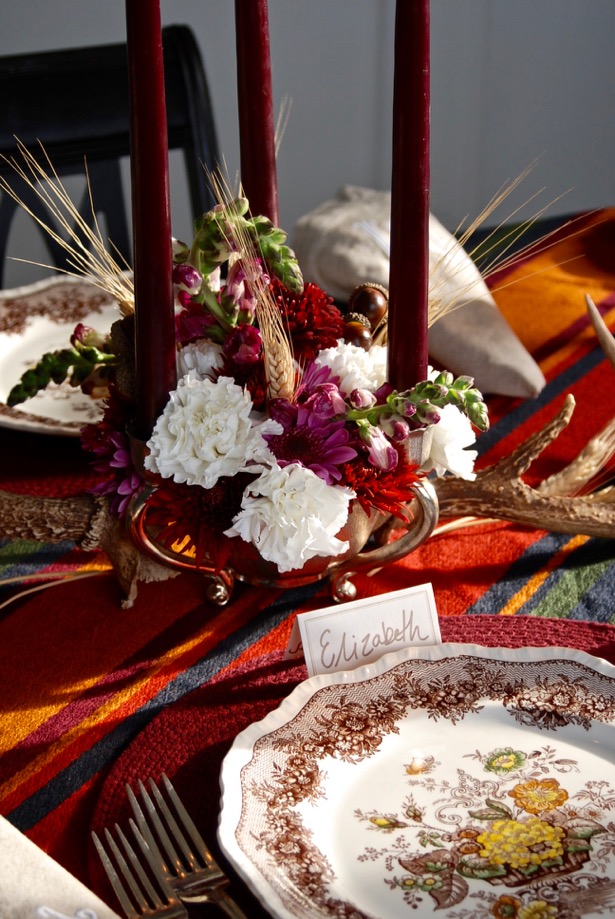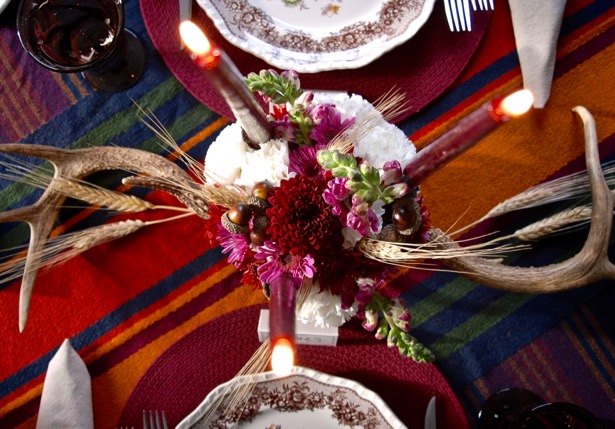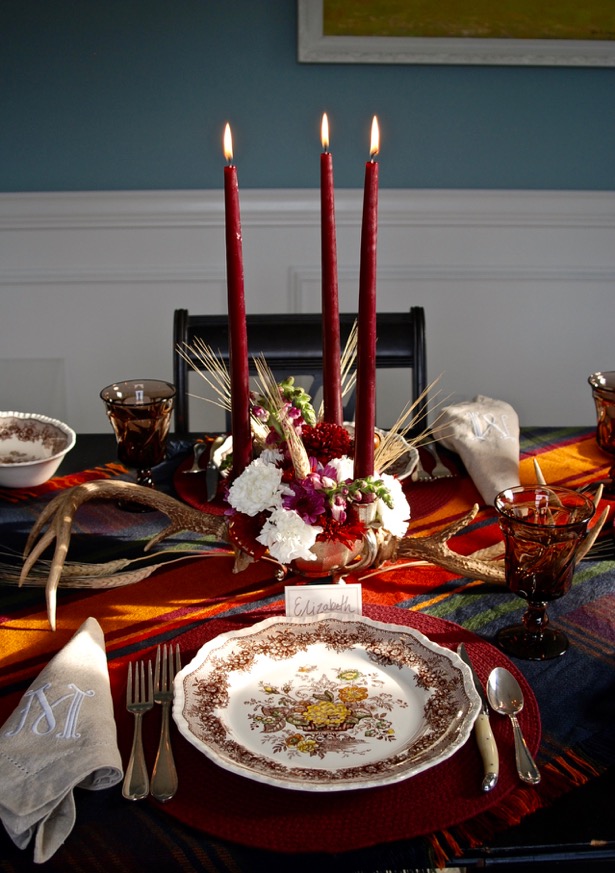 Wood Box Centerpiece
The wood box centerpiece filled with copper pumpkins, acorns, antlers, and wheat is very autumnal. It amps up the rustic feel of the Thanksgiving table with the neutral colors and rough wood. I like the more casual feel this centerpiece gives the tablescape. The box is from my family's farm, and was used to store tools in the barn.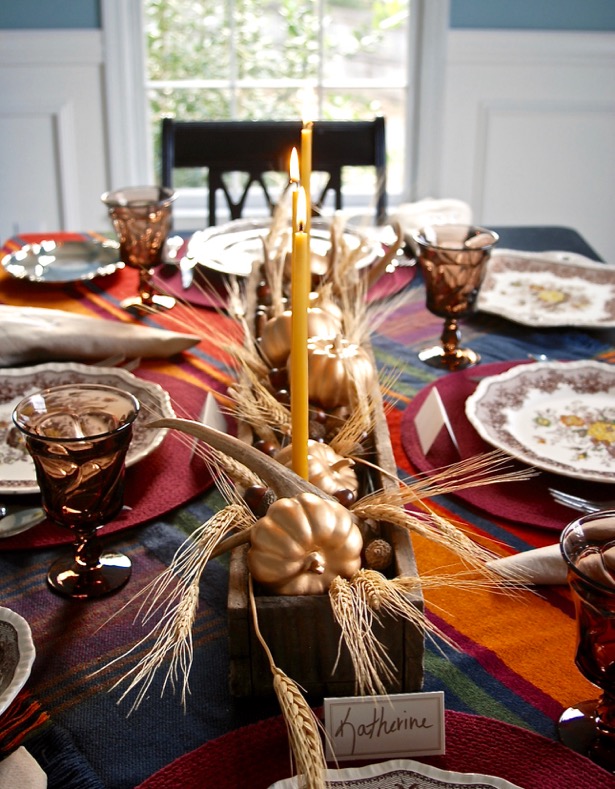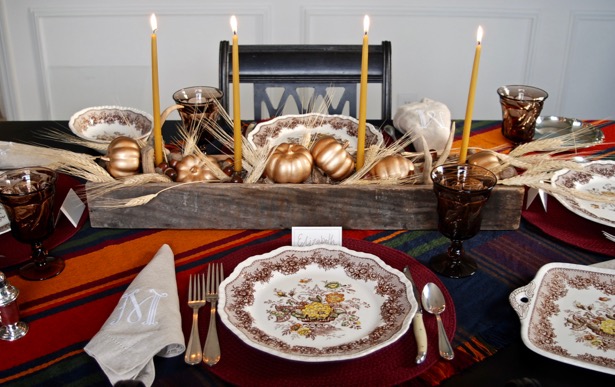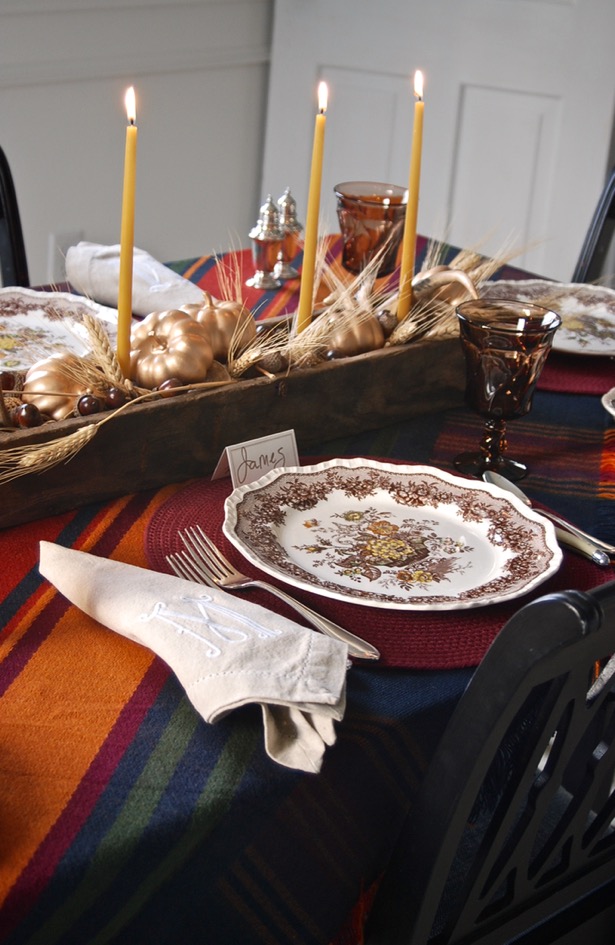 As you plan your Thanksgiving centerpiece keep in mind these tips:
Plan your centerpiece and layout your table setting and serveware in advance for a stress free day.
Keep your centerpiece low to encourage conversation across the table.
Make sure your centerpiece and other table decor does not interfere with dining. You don't want guests bumping into the flower arrangements or feeling crowded.
Use flowers and decor with minimal scents. Let the food aromas shine.
Remember candlelight instantly amps up the sophistication, so use it wisely.
Repurpose materials and decor in unexpected ways like I did with the scarf.
I've got more tips to host Thanksgiving here!
Another important element of your rustic Thanksgiving table should be gratitude! Maybe your family already has a meaningful gratitude tradition, so why not incorporate it into your table. This year I thought it would be fun to use the place cards as the delivery method. Inside each place card I wrote a message of thanks, expressing what I was most grateful for about that person. Then during the meal, I would encourage our guests to read their cards. This would be a great gratitude activity to involve your kids in, and I'm sure the messages would be adorably comical.
It is amazing the power the centerpiece has to change the look and feel of a tablescape. Experimenting with two different centerpieces has really taught me to never underestimate the power of a well done centerpiece! Which one do you prefer the floral arrangement or wood box centerpiece?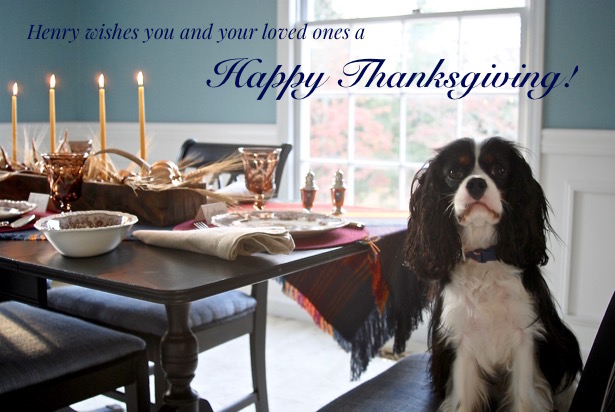 Partying at The Dedicated House…A Stroll Thru Life…Between Naps on the Porch…