Host a Halloween Dessert Party

Let the Halloween frivolity begin, but keep it simple by hosting a Halloween dessert party!
Dessert parties are a fun, festive way to celebrate Halloween without having to go to the trouble of a full dinner party or throw a costume bash. A Halloween dessert party is easily themed for kids or adults and showcases the best part of Halloween — the candy!
I chose a simple black and white color scheme accented with pops of fuscia and orange. My color choice was decided when I found those gorgeous fuscia roses. I knew they would look great against a black backdrop and play to the slightly gothic atmosphere I wanted to convey.
For desserts, I made 3 simple but yummy recipes: cupcakes, 7 layer bars, and lemon curd tarts. I wanted to make all "finger foods" so the desserts were easy to eat standing and mingling. Cupcakes are always a popular choice, and they are easy to theme for Halloween.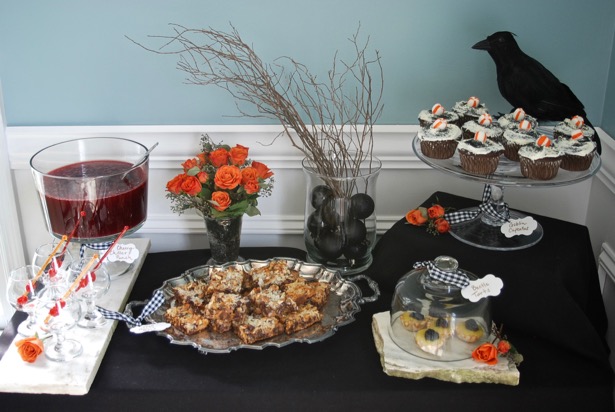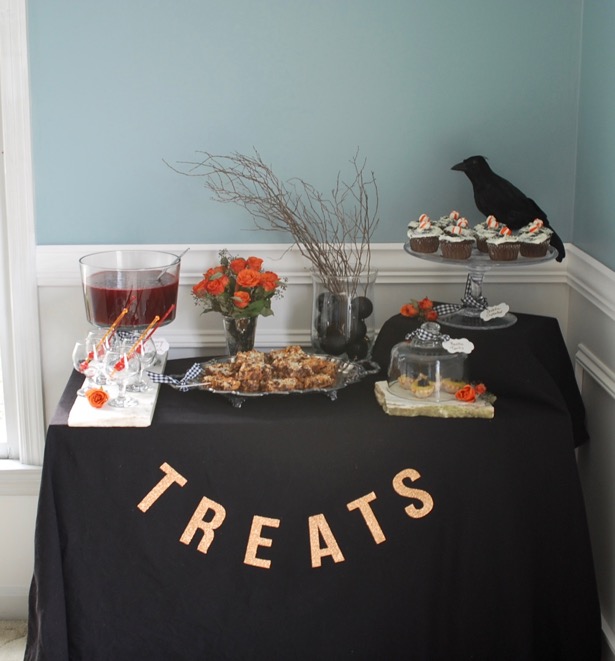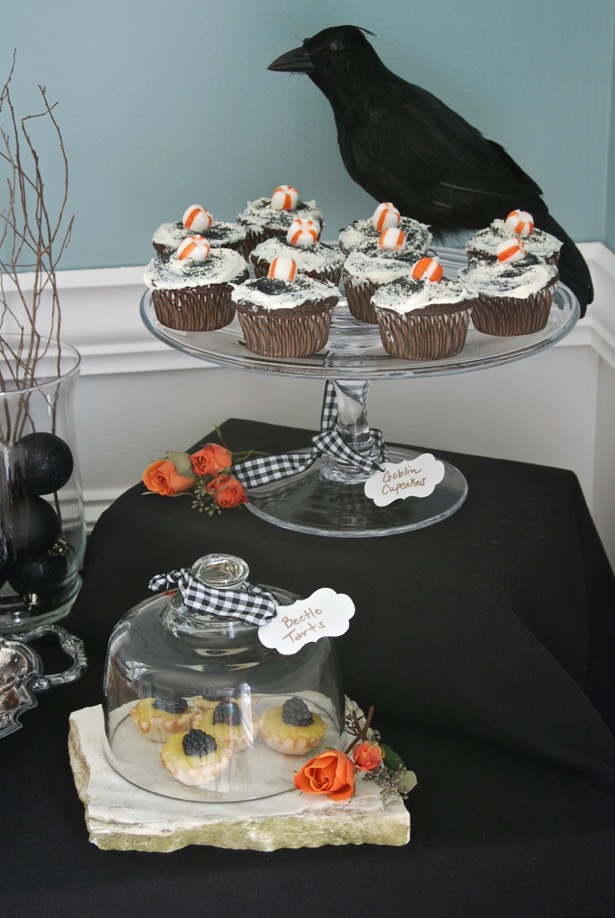 Tips for Hosting Your Own Halloween Dessert Party:
Set up your dessert buffet in a prime location easily accessible with room for guests to flow through.
Make the dessert buffet appealing by using cake plates, silver platters, and other lovely serving pieces. Vary the heights of your desserts by using risers. I placed a cardboard box under the tablecloth to elevate the cake stand and then layered slabs of marble under the punch and beetle tarts to give those added height. Play with these elements the day before the party, so your arrangement is fixed ahead of time.
Add festive decor in strategic spots: the dining room table, the dessert buffet, and the front door. Your decor doesn't have to include pumpkins. Feel free to break out of clichéd Halloween decor and choose a theme based on a scary book or movie.
Choose 3 or 4 desserts that will appeal to a variety of guests and satiate different tastes. Serve something chocolate, something tart, something fruity, and even something savory. I knew my guests were chocolate lovers, so I felt comfortable serving two chocolate rich desserts.
Offer guests a non-sweet treat as well to help cleanse the palette. I placed a dish of nut trail mix on the dining table for this purpose.
Give your desserts fun Halloween names. I added a blackberry to the lemon curd tarts and named them beetle tarts. I called the cupcakes goblin cupcakes, and the 7 layer bars troll house bars (hehe…get it toll house)!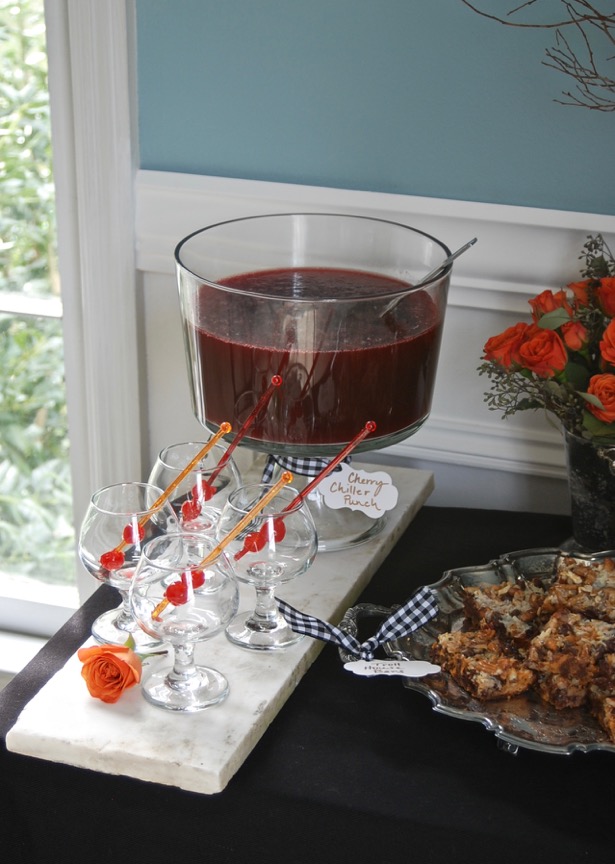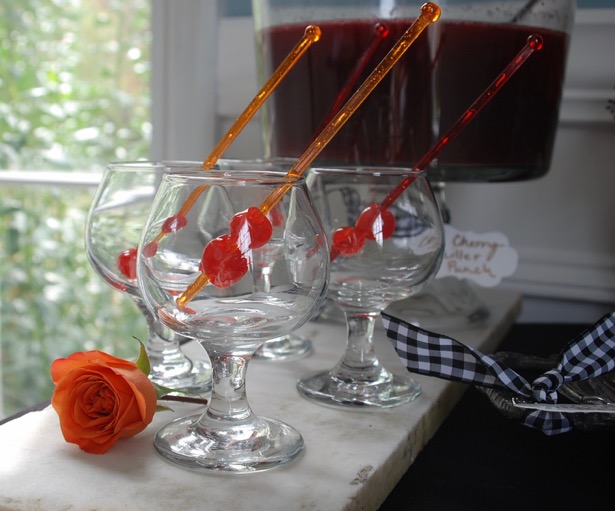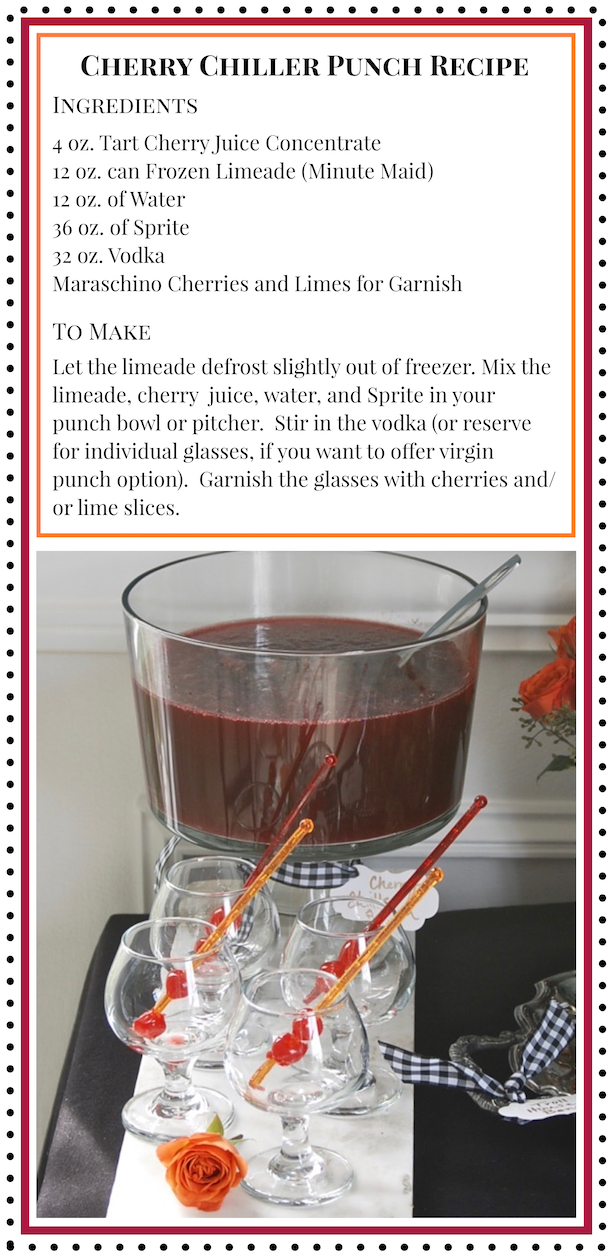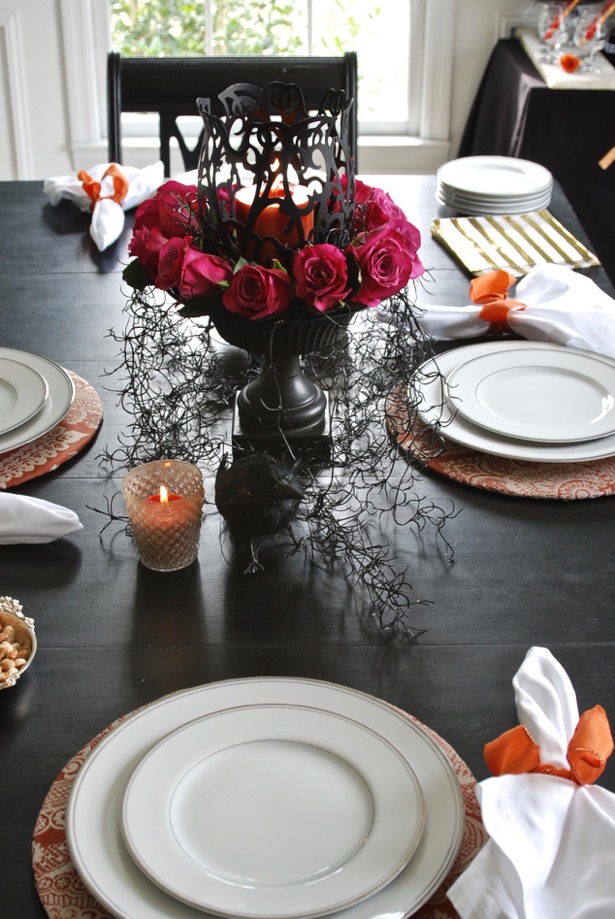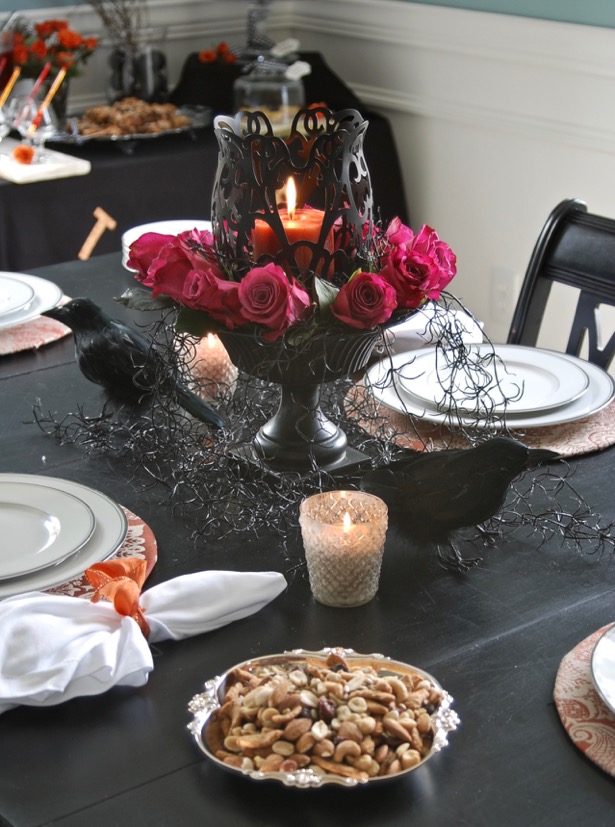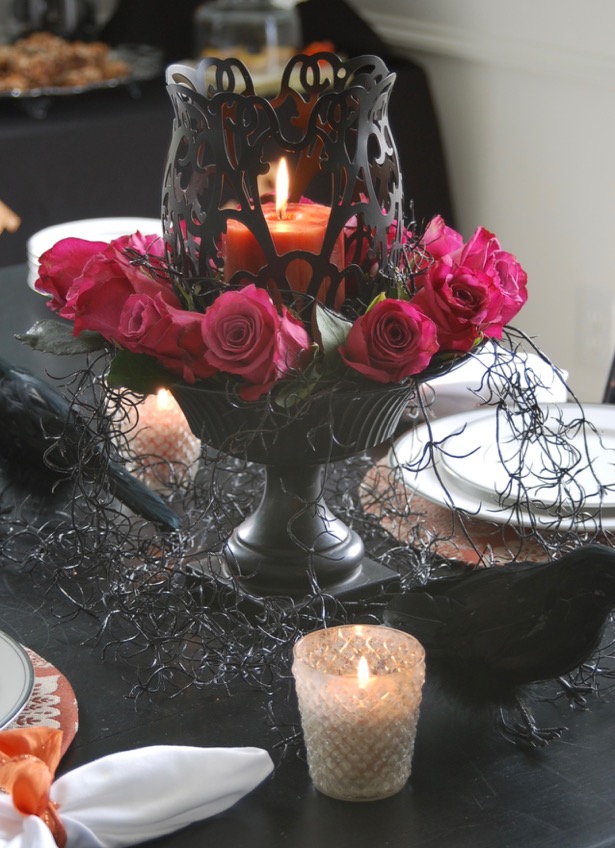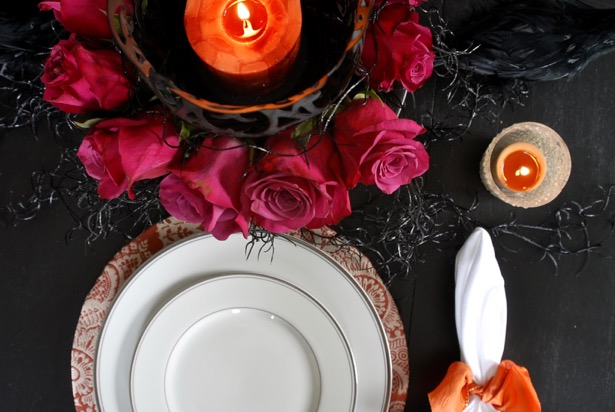 I couldn't resist making my DIY chargers again. They are made with fabric and cake boards. Learn how to make these chargers here.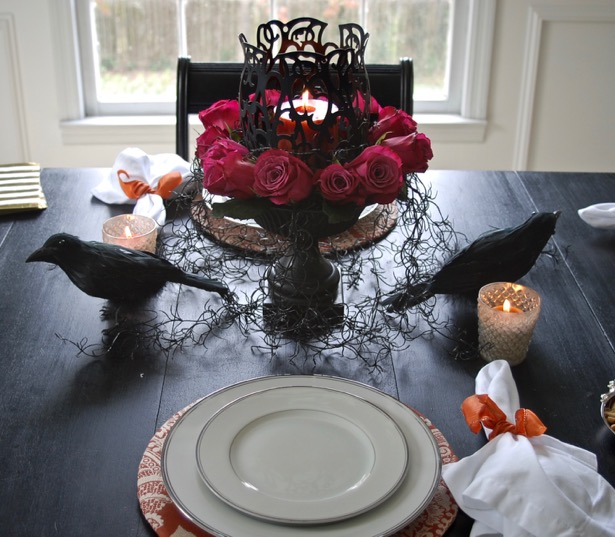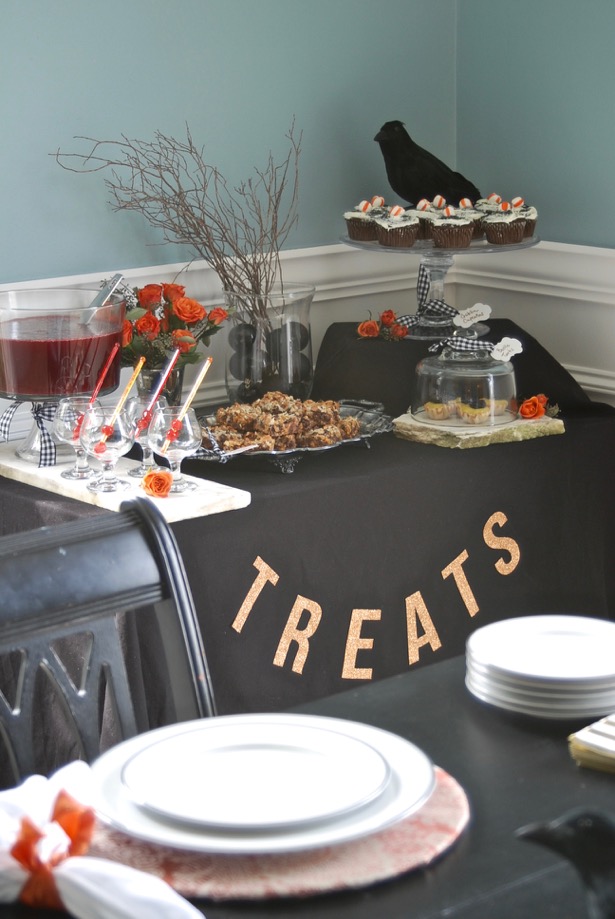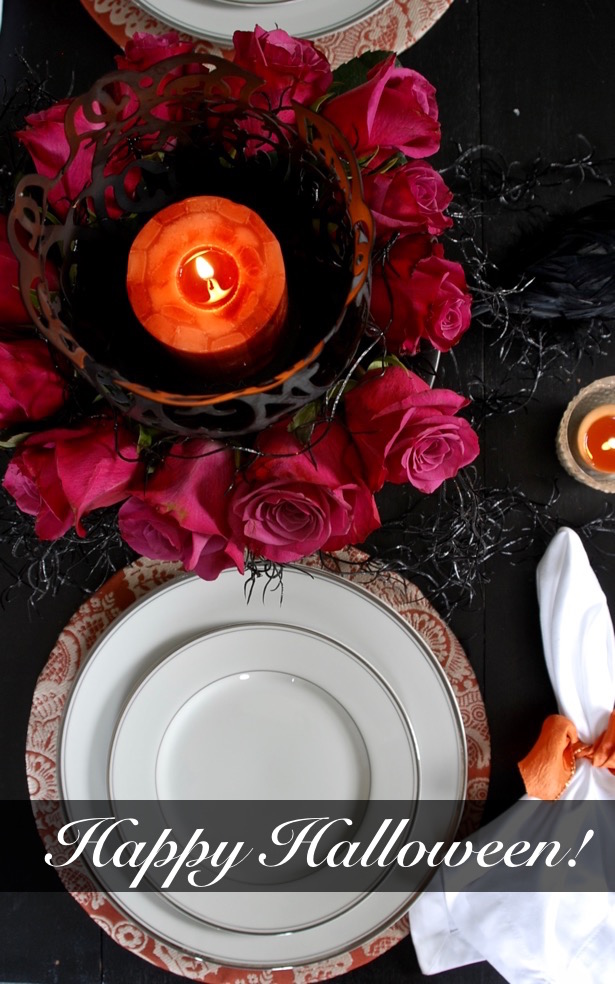 Partying at Between Naps on the Porch…A Stroll Thru Life…Waste not Wednesday…Make it Pretty Monday…