Bring Chinoiserie Chic Style to Any Space
Are you a fan of the collected interior, de Gournay accessories, and rooms by the likes of Bunny Williams and Dorothy Draper? Well then, you are sure to love Chinoiserie chic style – a design aesthetic evident in all of the above.
What is Chinoiserie?
Chinoiserie /shin-wahz-ree/, French for Chinese-esque, is a design and décor style inspired by the art and culture of China, Japan, and other Asian countries.
It developed in Europe in the mid 1700's as explorers and merchants began traveling to the far East and bringing back stories and drawings of this exotic locale as well as importing Asian silks, porcelain, and lacquerware. A craze for all things Asian soon swept Europe, and designers, artists, and craftsmen there started to create their own fanciful versions of these wares.
Chinoiserie has become a classic décor style popular in traditional Southern homes and more modern abodes. It is characterized by several key motifs, including Chinese figures, fantastical landscapes, dragons, pagodas, and romantic florals. Above all it is whimsical, bold, and exotic.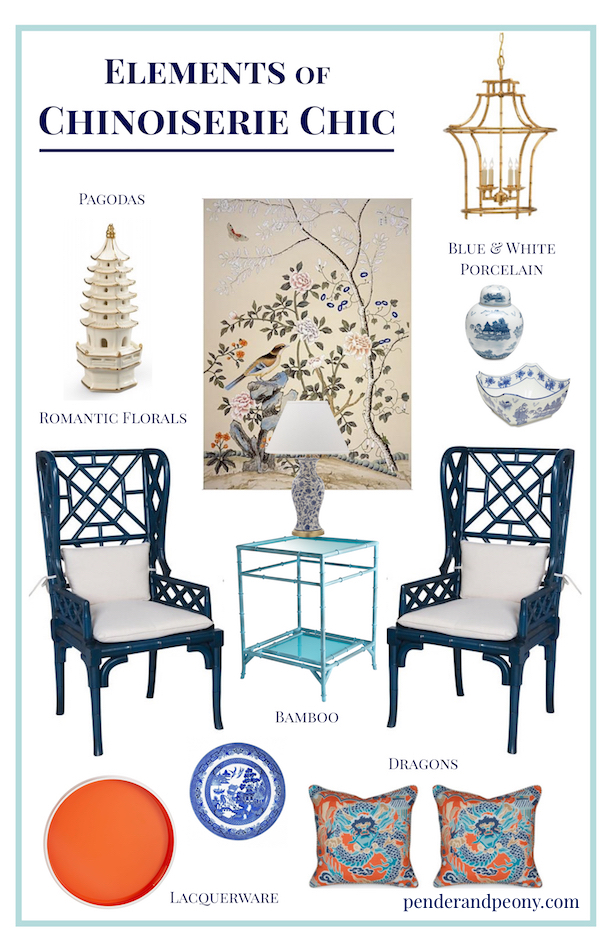 *This post contains affiliate links, which means I may receive a small commission from the brand if you purchase something.*
Chandelier // Ceramic Pagoda // Ginger Jar // Bowl // Print // Lamp // Table // Chairs // Plate // Tray // Pillows
Want more Chinoiserie Chic decorating advice? I'm sharing my top 5 tips in this post with suggestions for splurge versus steal Chinoiserie decor!
---
A Modern Take on Chinoiserie Chic Style with LuxeDecor
Today, I've invited LuxeDecor to P&P to share their modern take on Chinoiserie chic style. LuxeDecor is a unique online showroom for high-end furnishings and decor. As you'll see, one of the easiest ways to incorporate Chinoiserie in your home is to decorate with blue and white ceramics.
From lamps to ginger jars, porcelain pieces depicting Chinese motifs have enjoyed a status of chic relevance since the development of the Chinoiserie style. This look brings together ancient Chinese elements with a fresh Western perspective to a stunning effect. With pure white and indigo hues, oriental floral designs, and graceful silhouettes, the Chinoiserie style is unmistakable yet adaptable to a variety of interior aesthetics.
No matter the backdrop, Chinoiserie porcelain adds a dose of Eastern flair and timeless elegance to any room. Read on to learn how to bring Chinoiserie chic style to any dwelling.
Chinoiserie jars and vases bring a much-needed dose of color and visual interest to a neutral space. Here, a beige and tan backdrop offers the perfect canvas for a variety of Chinoiserie styles. Jars of varying sizes, shapes, and patterns bring an eclectic, far-flung ambiance to the room, without overwhelming a simple furniture arrangement. Gilded gold accents, carved chair backs, and large palm leaves add the finishing decorative touch.
A sharp departure from a neutral dining space, this eclectic bedroom ushers in all things whimsical and eccentric. From a postmodern porcelain statue to bedside tree branches, a Chinoiserie vase and ginger jar look right at home in this spirited, bohemian setting. Marked by rich indigo hues, Chinoiserie blue reads almost as a neutral alongside more colorful pieces, adding balance and polish to the look. These ceramics are unmistakably Chinoiserie in style, but they blend perfectly with contemporary patterns and modern trends.
Often styled as lamps, Chinoiserie porcelain can add both form and function to a room. Here, a traditional ginger jar lamp appears effortless beside blue and white pillows and decor. The geometric sofa frame pattern and tall palm plant give this space a tropical vibe, while rich blue hues tie everything together. A drink tray with glasses, coffee table books, and a cozy oriental rug warm up this space for an inviting living arrangement.
Guest post by Amelia Ohm for LuxeDecor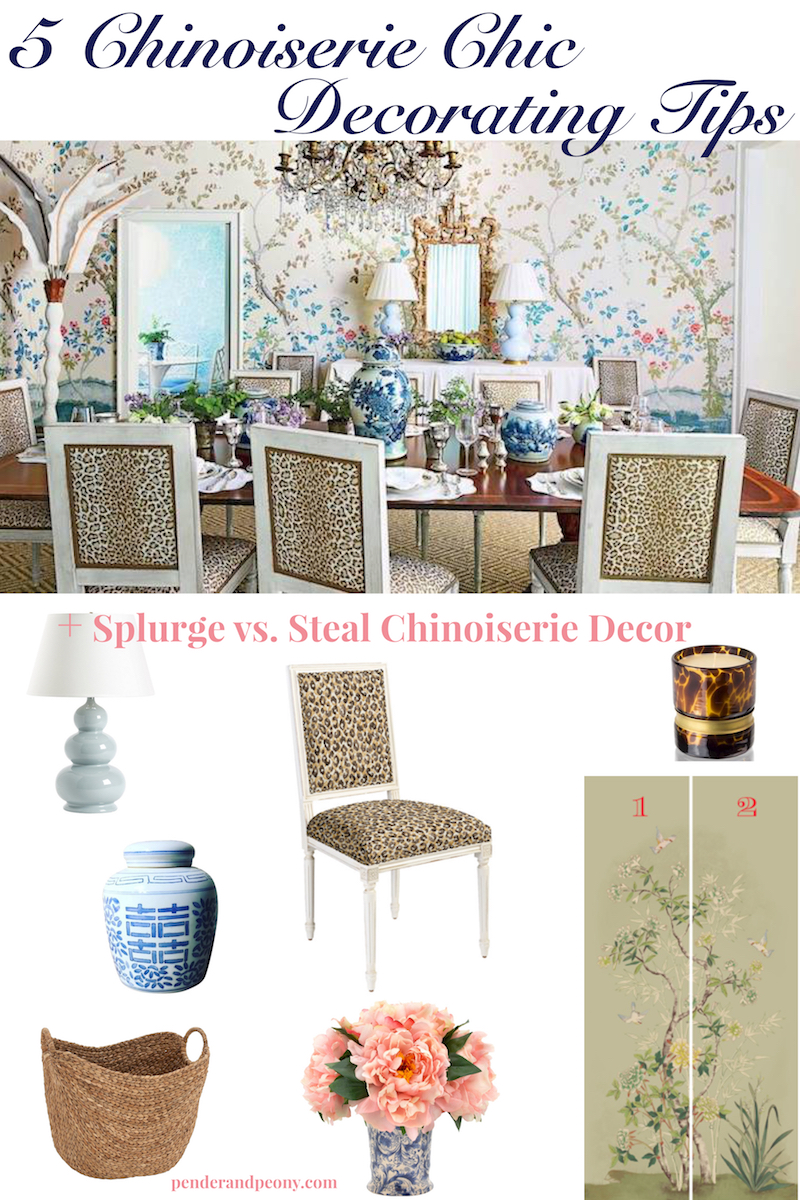 Partying at Remodelaholic…
SaveSaveSaveSave
SaveSave