What do most of us want from our kitchens today?
Cooking Space | Storage | A Place to Entertain | Style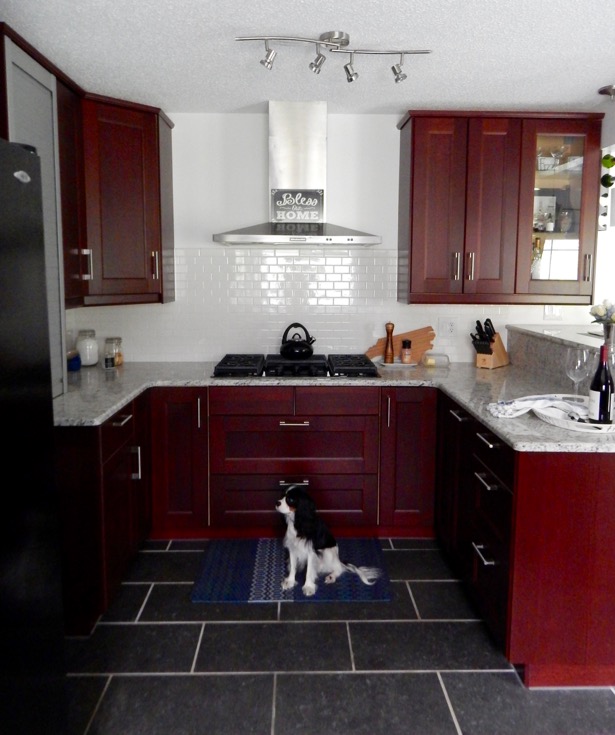 Kitchens today are very much the heart of our homes, especially for those who love cooking. But we expect so much more from this space than just food prep. We expect to gather there, make important memories there, and store everything from pots and pans to our great-grandmother's tea set there. We also expect to do all of this in style and comfort. Achieving this vision of the kitchen depends upon balancing an entertaining area with functional cooking zones.
How did S. and I achieve this balance in our recent kitchen makeover? Well, it took a lot of hard work and a lot of planning but we managed to keep the project on time and in budget and now our kitchen looks amazing! There were a few points we thought it wasn't going to come together because the builders needed to go to another project but they did what they could and we just got an odd job repair service to finish off the rest! Here are some of the tips for you all to follow for your own renovation:
Layout is probably the number one factor in finding this balance! It takes a lot of forethought and planning to figure out the best arrangement. This is where you need to think beyond just what goes into your kitchen and more about how it will fit together.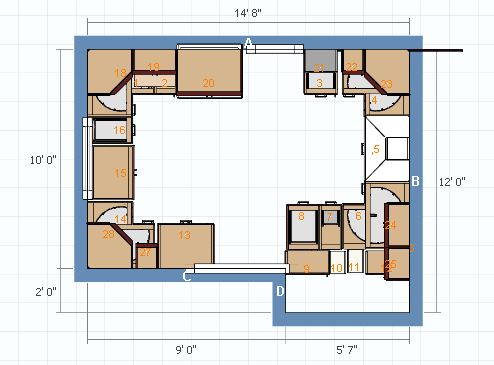 Create Work Zones – think about the specific activities you do in the kitchen beyond just the basics of stove cooking and washing dishes. My list includes chopping, baking, washing dishes, recycling, brewing coffee, and making cocktails. Then ask yourself wherein space does it make sense to do this work and what kind of storage do you need to put all the tools for those activities right at hand.
Take an inventory of all the items you store in the kitchen, including consumables, and then visualize how and where all those items should be stored within the work zones you've identified.
Utilize design software and test different layouts with painter's tape. Once I knew some of the basic measurements of our new stove, oven, dishwasher, etc. I laid out those appliances using painter's tape on the floor. Then I actually tested working within this new configuration.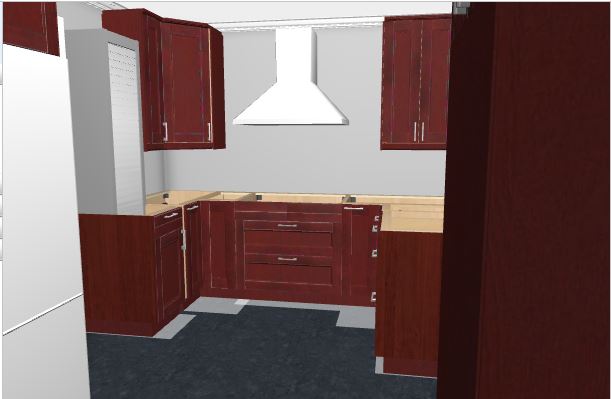 Maximize cabinet and appliance function without breaking the budget.
Go directly to the granite manufacturer. Skip the middleman!
Shop appliance discount stores like the Sears Outlet, or Allgreatappliances.com, or opt to buy floor models. There is usually nothing wrong with the appliances on the floor or in a discount store. Either these are older models, have a minimal scratch or ding somewhere, or were returned because original buyer miss-measured.
Utilize the corner space with turnstiles.
Add drawer organizers. Cabinets can look beautiful from the outside, but if the stuff they contain is inaccessible or all-a-jumble, you will be disappointed with your new kitchen, so be sure to budget for this. Ikea has some great options that should work in any drawer or cabinet.
Play up your style! Kitchens can easily become sterile or generic-looking, so don't neglect to style the counter-tops and play with color.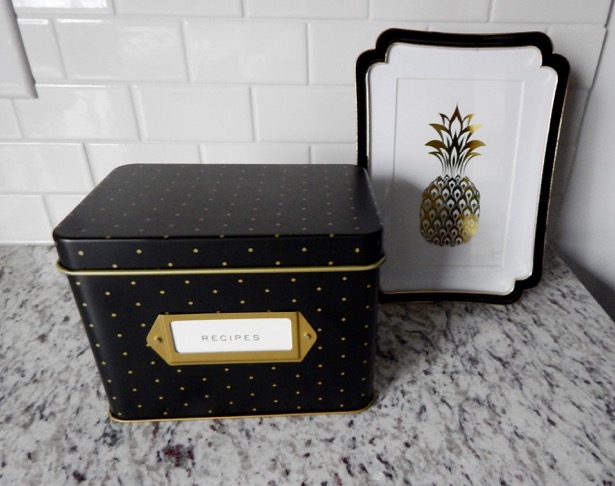 Add personal touches. Try framing a hand-written recipe from your mother or an art print and placing it on the counter.
Hide trashcans. A well appointed kitchen should not have a plastic trashcan sitting to the side of an island. Put it on a pull out cabinet under the sink or away inside a pantry.
De-clutter kitchen counter-tops. Yes, your kitchen should be functional with cooking tools easily accessible, but this does not mean everything need should sit on the counter. Choose some select cooking tools that are designed well to set out. Put your mixer and other counter-top appliances behind doors.
Highlight something you collect like wine or salt and pepper shakers.
Brighten the space with a unique light fixture.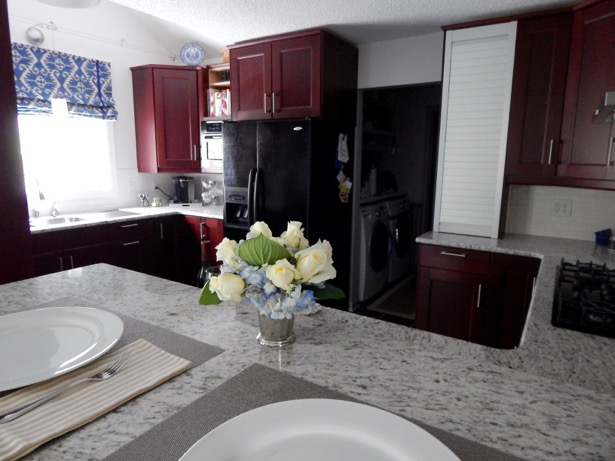 The kitchen renovation S. and I completed perfectly suits us. Is everything exactly as we planned? No, absolutely not; there were several road bumps along the way, for instance, S. had to completely re-work the microwave cabinet we ordered when we miscalculated the depth needed to house it. Some days it was all I could do to strive for patience and calm.
Another challenging part of a kitchen renovation is keeping within the budget. We had to make some changes to our plans to ensure we stuck within ours but there are lots of budgeting resources that can be used to help keep track of spending.
Probably, the best advice I can give those facing a kitchen renovation is to be ready for the unexpected. Mistakes and miss-calculations are bound to happen. Have a backup plan and maybe even a backup plan for your backup. Even better have a contingency fund.
And finally, a bit of very necessary advice that's not often mentioned, make sure you dispose of your waste correctly. Trust me, you don't want to be living in a total building site! Not only is it a health and safety hazard, but it also makes your home dusty. Hire a skip if you can because you are probably going to need one. It was so much easier to just chuck all our waste in a huge bin outside and have someone take it away rather than make multiple trips to the recycling centre. You want the renovation process to run as smoothly as possible, so anything that makes that happen is a plus.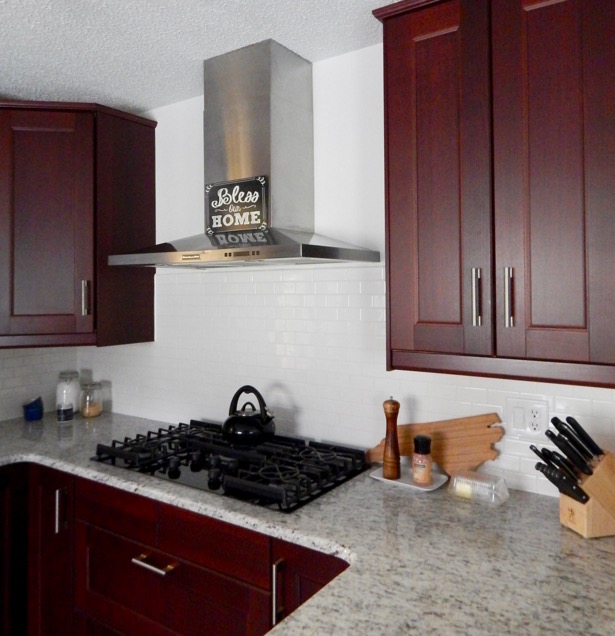 Join the link party and check out other great remodeling projects on Remodelaholic!