Patio Décor: Festive Preppy
Spring temperatures have finally stabilized here around a balmy 80 degrees with minimal to no humidity. It is absolutely lovely! But as every Southerner knows this pleasant weather will soon give way to sweat-inducing degrees and humid air so viscous you could barely cut it with a knife. So let's head outside and enjoy it while we can. To enjoy it properly, you want your garden looking absolutely gorgeous, right? To do this, a few alterations and investments may need to be made. Sprucing up your garden with some new plants will ensure your backyards looking colourful and natural, and getting the right outdoor furniture will turn it into the perfect living space for friends and family. The Charming Bench Company has some great furniture for any occasion, whether it's for a family BBQ or you're just planning on relaxing in the sun. Gardens are becoming more and more commonly used for parties, but having everyone walk around on your grass or spill food and drinks can ruin the health of it. Investing in decking boards from companies like Dino Decking makes spillages easier to clean up and creates a larger living space with more functionality for barbeques and grills, as well as looking aesthetically pleasing! Not to mention that a deck adds value to your home and allows you to place more comfortable outdoor furniture down for a cosy feel, especially with high-quality furniture like Remarkable Furniture. Looking for this furniture for your garden can be tough, so here are some festive decorating ideas for your patio or deck: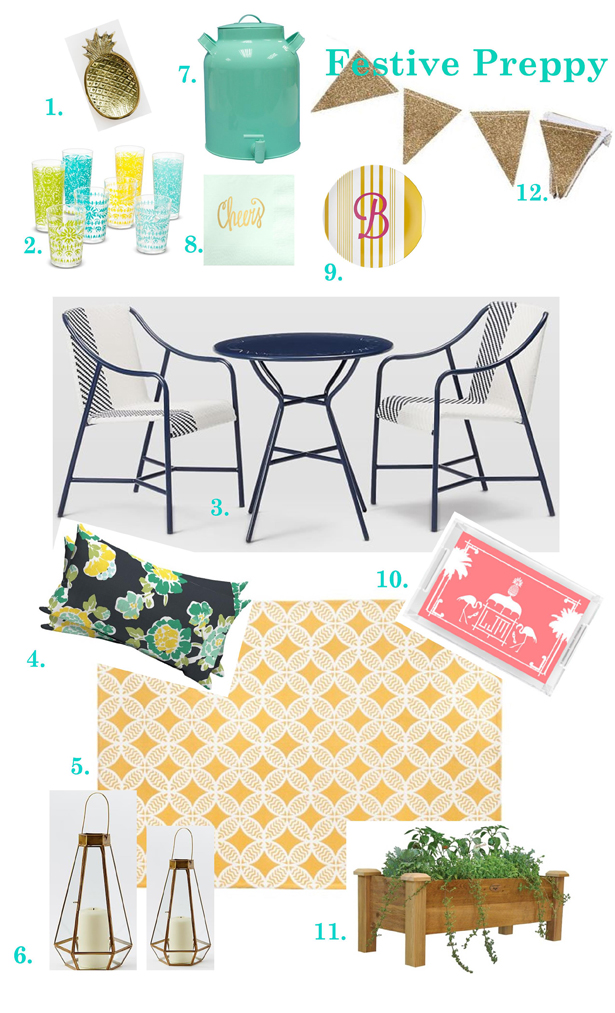 Don't miss these great sales on outdoor furniture and patio accessories at Pottery Barn and West elm.
1. Emily McCarthy Pineapple dish– small brass $10; 2. Mudhut Marika Tumblers at Target set of 8 $13.99; 3. West elm Mast Dining Set– Colorblock on sale $492; 4. Room Essentials 2-piece outdoor pillow set at Target $15.98; 5. Threshold Indoor/Outdoor Flatweave Rug– yellow at Target on sale $89.99-$179.99; 6. West elm Faceted Lanterns $49-$59; 7. Threshold Metal Beverage Dispenser at Target – aqua $19.99; 8. Emily McCarthy "Cheers" Cocktail Napkins in mint $10; 9. Monogrammed Melamine Plate from Mark and Graham $35; 10. Emily McCarthy Lucite Tray– Flamingo Bamboo pattern $60-$110; 11. Gronomics Rustic Planter at Target $150.99; 12. Paper Source Glitter Mini Banner $9.95.