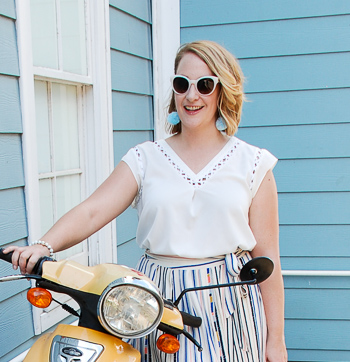 Welcome!
P&P is a Southern Lifestyle Blog dedicated to helping you  EMBRACE GRACIOUS LIVING!
Let's Decorate, Entertain, Accomplish, & Navigate the South with more grace, charm, and gumption!
Natural textures, chinoiserie accents, and a blue and white palette create a cozy yet chic family room! I am dreaming of new furniture in our family room.  Our current sofa is about 9 years old, and while I loved the sofa when I purchased it, now it is starting to… Read more
Make your Cinco de Mayo fiesta dazzle with this easy pineapple margarita on the rocks recipe. Hosting a fun and fabulous Cinco de Mayo party this weekend? Want to try a new margarita? I've got you covered with this pineapple margarita on the rocks recipe!  It is super easy to… Read more
5 Healthy Living Strategies to help you feel better, have more energy, and adopt a healthy lifestyle! Are you trying to eat and live more healthy? Me too, but sometimes it seems so complicated and practically impossible! We are bombarded by healthy eating advice, scientific findings, new diet crazes, and of… Read more
The perfect Lilly shift dress versatile enough for summer date nights and outdoor activities. Is there anything better than a chic Lilly shift dress for summer?  Not possible –in my opinion at least!  Colorful Lilly Pulitzer dresses are always on my summer style essentials list. Always.  This little green, standing… Read more
Southern mamas' advice – the best words of wisdom from our Southern mamas – take them to heart! As y'all know, Southern mamas are brimming over with important pearls of wisdom, and in honor of Mother's Day this weekend I'm sharing some of my favorite Southern mamas' advice from my… Read more
Don't know where to start when selecting colors for your home?